Discover more from Political Junkie
News you can use about politics, culture, media, and higher education.
Over 4,000 subscribers
A Plague of Lies
Learning to never trust what the government says is, in itself, a public health crisis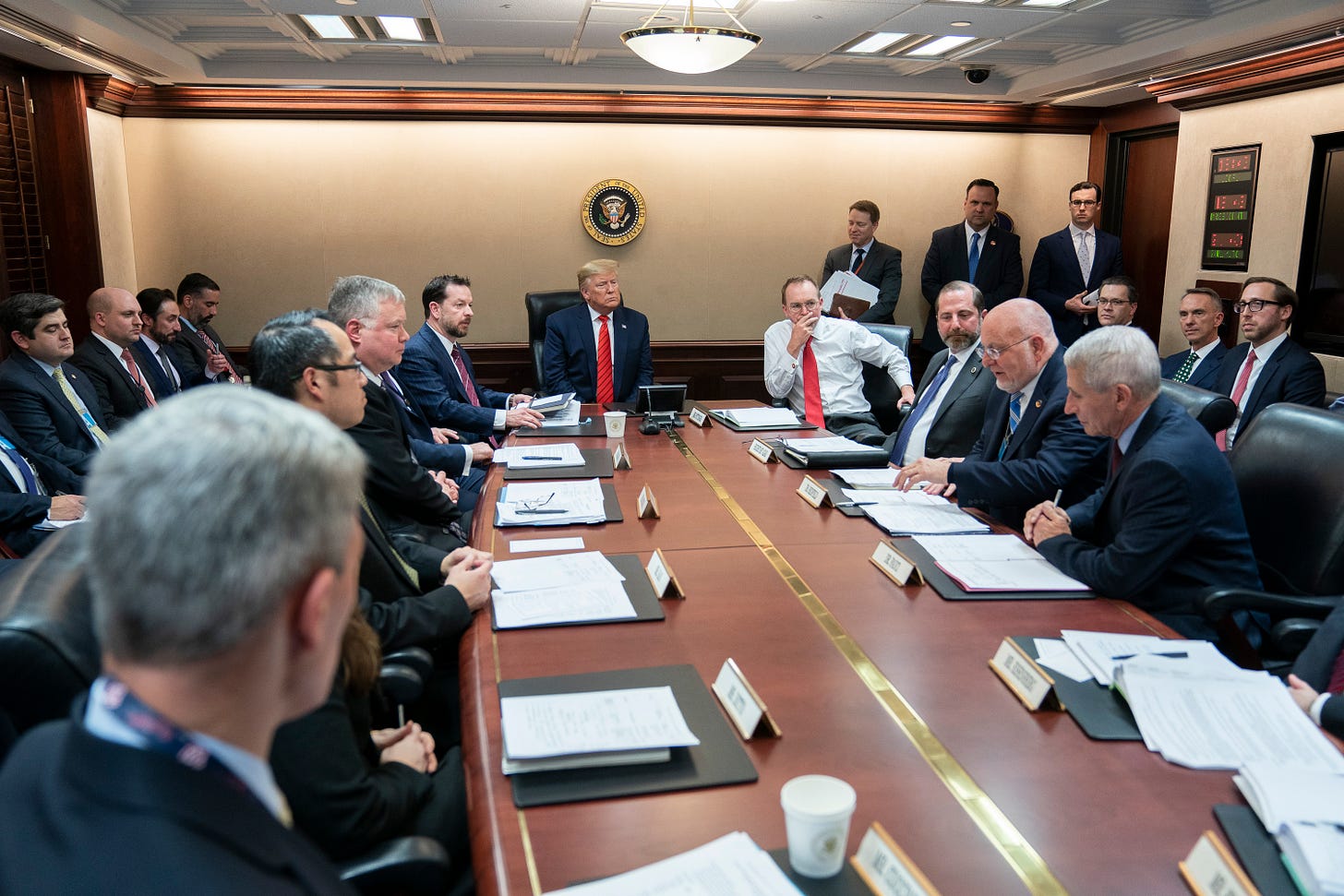 A room full of Republican men in ties getting ready to blow smoke up your keister.
A torrent of misinformation from the Trump administration has accompanied the novel coronavirus pandemic. As one of our senior editors, Jeff Isaac, wrote this morning at Public Seminar, the ongoing political crisis is now inseparable from the public health crisis.
Take the flip-flopping on whether the American public should wear masks. In early February, an acquaintance of mine, Jon Stokes, formerly of Ars Technica, and now publisher of a site called The Prepared, recommended that readers buy an N95 mask and a supply of filters. Yes, N95's were already in short supply because of COVID-19 outbreaks elsewhere in the world. Surgical masks, Stokes noted, were a poor substitute, since they were "mostly designed to protect other people from you, not the other way around." But they were a substitute. As Stokes noted, "If the best you can do is a surgical mask, it's better than nothing."
I paid little attention to The Prepared at the time, and I did not order surgical masks from Amazon. True, I underestimated the power of this pandemic. But despite my admiration for Stokes, I was skeptical of the source. The guys at this site are what is called "preppers," which is a polite way of saying they are survivalists. Preppers are a Silicon Valley subculture (think Peter Thiel and his artificial floating island operating beyond the reach of all governments) that, according to TechCrunch (May 9, 2919), that has been readying itself, since the 2008 financial meltdown, for civilization as we know it to implode.
Unlike the survivalists I used to know in the Mountain West, they aren't anticipating the End of Days. But they do believe that society is capable of a severe meltdown that will potentially return us to our baser selves. The Prepared is, as TechCrunch puts it, "aiming to make the world of survivalism more approachable to a wide audience." In other words, we aren't talking about killing squirrels with a slingshot and skinning them with a penknife (yet.) Preppers, although they do believe you should be able to feed yourself in the wild, are cross-over survivalists. Their task is to help a general audience of non-believers do survivalism Costco-style.
But I digress. The point is, I didn't take the preppers seriously, and they were right. We now know that the Trump administration was lying about surgical masks as one, perhaps small, part of its broader effort to cover up their incompetence. Even as the President and his sycophants were pooh-poohing the potential severity of the pandemic, they knew that they had nowhere near enough safety equipment for hospitals, much less the general public.
So instead of figuring out how to get masks and distribute them, as government officials do in other countries, the administration portrayed the billions of people in Asia who wore them regularly during flu season as hysterics and told Americans that masks were pointless.
To repeat the point: a surgical mask is better than nothing. So, are homemade masks made from patterns found on the internet, or purchased on Etsy. Cutting up a padded bra and rearranging the straps, wearing a bandanna over your nose and mouth Jesse James style, or wrapping a tee shirt around your face, are all said to be better than nothing. And as it turns out, protecting others from ourselves — since many of us are asymptomatic carriers — is also an excellent idea.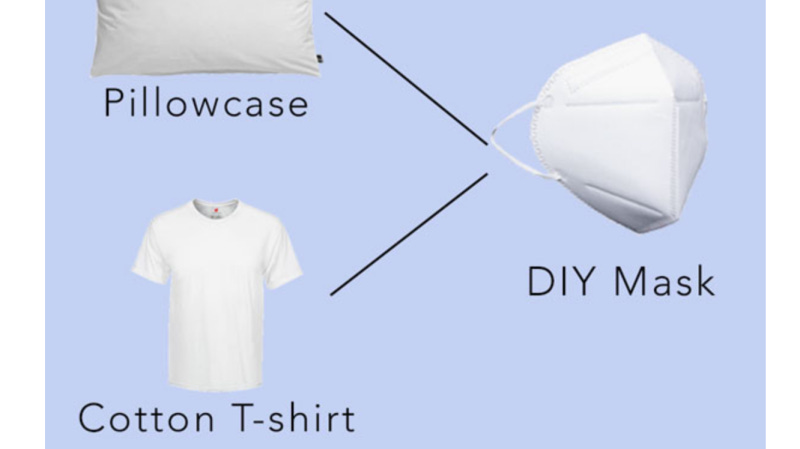 Is it any wonder that there are people out there, on the far left and the far right, who would not believe the sky was blue if the information came out of a government briefing? As Zeynep Tufekci writes (New York Times, March 17, 2020):
the top-down conversation around masks has become a case study in how not to communicate with the public, especially now that the traditional gatekeepers like media and health authorities have much less control. The message became counterproductive and may have encouraged even more hoarding because it seemed as though authorities were shaping the message around managing the scarcity rather than confronting the reality of the situation.
It seemed that way because that was precisely what the Trump administration was doing.
Deliberately misinforming the public about masks is just one example of the lying and incompetence that has already cost lives during this pandemic. Yes, as Isadore F. "Izzy" Stone famously noted, "All governments lie." But necessary and accurate information about health and safety is what any competent government should be able to provide, even if it lies about other things, like foreign policy and domestic spending priorities.
And even if we all start wearing bras on our faces today (a vision that does not inspire the thought "Make America Great Again") — the damage has been done.
What we're reading:
Jared Kushner has been a colossal flop at everything he has ever attempted, so naturally, he is directing the White House's coronavirus response. (Michelle Goldberg, New York Times, April 2, 2020)

Predictably, the COVID-19 "Trump bump" is fading. (Quint Forgey, Politico, April 3, 2020)

Want to know a slightly longer history of GOP lying? Read one of my favorite Rick Perlstein essays ever, "The Long Con: Mail-order conservatism" (The Baffler, November 2012), which describes the pervasive grifting endemic on the grassroots right and how it created a Republican political culture that was friendly to lying.
Resources:
There's got to be a morning after:
Agnes Scott College (Decatur, GA) is planning a conference for September 24-26, 2020, to mark 100 years of women's suffrage in the United States. Here's the call for papers.