Discover more from Political Junkie
News you can use about politics, culture, media, and higher education.
Over 4,000 subscribers
All the World's a Stage
Shakespeare meant this metaphorically, but for the Democratic National Convention, it is literally true.
OK, go ahead and carp if you like, but the DNC virtual convention is a smashing success by most accounts. With the ticket stashed away in Wilmington, DE, and Democrats joining in from around the country — and the world — it appears that going small in a world full of political spectacles has hit precisely the right notes. And can I say that having Kerry Washington, who played the chief of staff to the first woman president on season 6 of Scandal, was genius?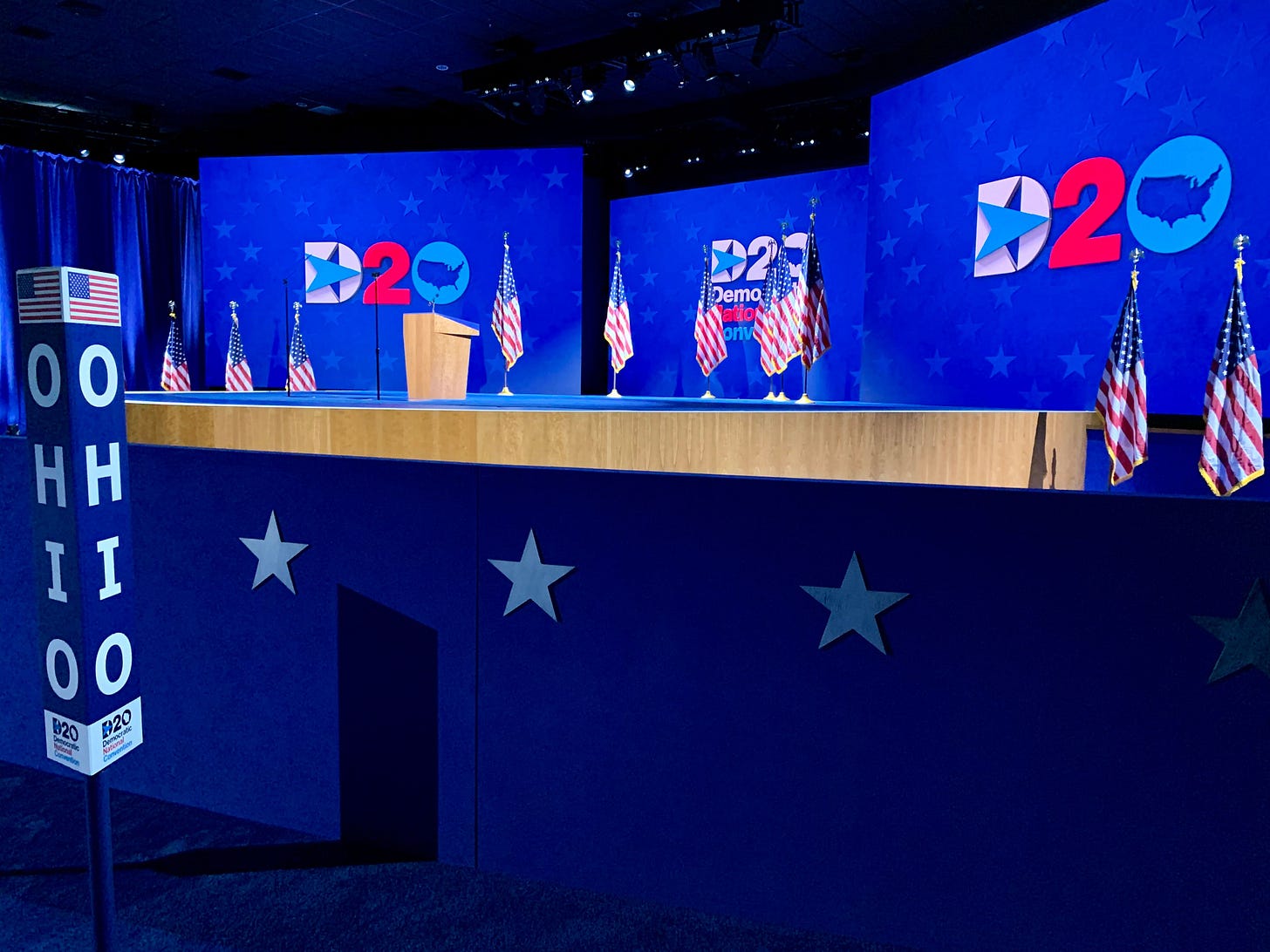 The set in Wilmington, Delaware, where Kamala Harris delivered her acceptance speech last night (Courtesy: Democratic National Committee)
Always an event for political junkies, with a mix of taped and live events, the convention has moved far more briskly than it does ordinarily. It was also keyed to internet attention spans made even shorter because of pandemic remote working conditions. All the speeches ran considerably shorter than they usually do, with some lasting as little as 60 seconds. The traditional "roll call" vote, a rite which often takes forever as state delegation chairs go on and on about the importance of dairy products, vegetables, and national wonders) was a resounding success. It was also a terrific opportunity to show the vitality of the party's multi-racial coalition and particularly indigenous communities across the United States and territories. Those of you who complained that the roll was corny do not understand conventions well: it's always corny. But the waving signs and funny outfits also distract: who would have even noticed a chef with a plate of fried calamari in the chaos of the Rhode Island delegation?
As a not-insignificant aside, although Elizabeth Warren had instructed her delegates to cast their votes for Biden, there was an agreement that Bernie Sanders would not, and would take advantage of having cleared the threshold to be put in nomination. This deal cleared the way to recognize and acknowledge the strength of the Sanders wing of the party — and, not insignificantly, avoided the ugly demonstrations of 2016, in which Sanders lost control of his delegation and set the stage for the disastrous Jill Stein candidacy.
Last night was huge: female powerhouses Gabby Gifford, Nancy Pelosi, Elizabeth Warren, Michelle Lujan Grisham, and Hillary Clinton set the stage for Kamala Harris's nomination as the first African-American and South Asian descended woman to be nominated to a presidential ticket. In perhaps the only miscalculation of the evening, a gloves-off speech by former President Barack Obama, in which he detailed Donald Trump's gross unfitness for the presidency, was the setup for Harris. The power of this speech made a historic Vice Presidential acceptance speech—in a genre that does not play to Harris's (or any woman's) strengths as a first-rate orator and attack dog, since the point is to get personal, warm and fuzzy—a slightly deflationary experience.
But that is a minor carp. Tonight features several Joe Biden's primary opponents (including one of the Senate's best orators, New Jersey's Cory Booker), the Chicks, and Biden's acceptance speech. Check out the schedule here.
Breaking:
Fact check:
What I'm reading:
Kamala Harris writes that "Berkeley's Black and South Asian Communities Taught Me the Meaning of Family" (LitHub, August 19, 2020)

At The Editorial Board, John Stoehr argues that, in its current state, the GOP is not a good-faith governing partner: their collusion with Trump in the Russia cover-up proves it. (August 19, 2020)

As the Post Office scandal becomes more unmanageable, and 21 states sue the federal government, Amanda Carpenter observes that Donald Trump "brought it on himself." ("The Post Office Scandal is Either Stupid or Evil, Your Choice," The Bulwark, August 19, 2020)
Claire Potter is co-executive editor of Public Seminar, Professor of History at The New School for Social Research, and author of Political Junkies: From Talk Radio to Twitter, How Alternative Media Hooked us on Politics and Broke Our Democracy (Basic Books, 2020). You can tweet with her @TenuredRadical.