Discover more from Political Junkie
News you can use about politics, culture, media, and higher education.
Over 4,000 subscribers
Are You Ready, Democrats?
The presidential campaign you have been waiting for since November 9, 2016, is about to begin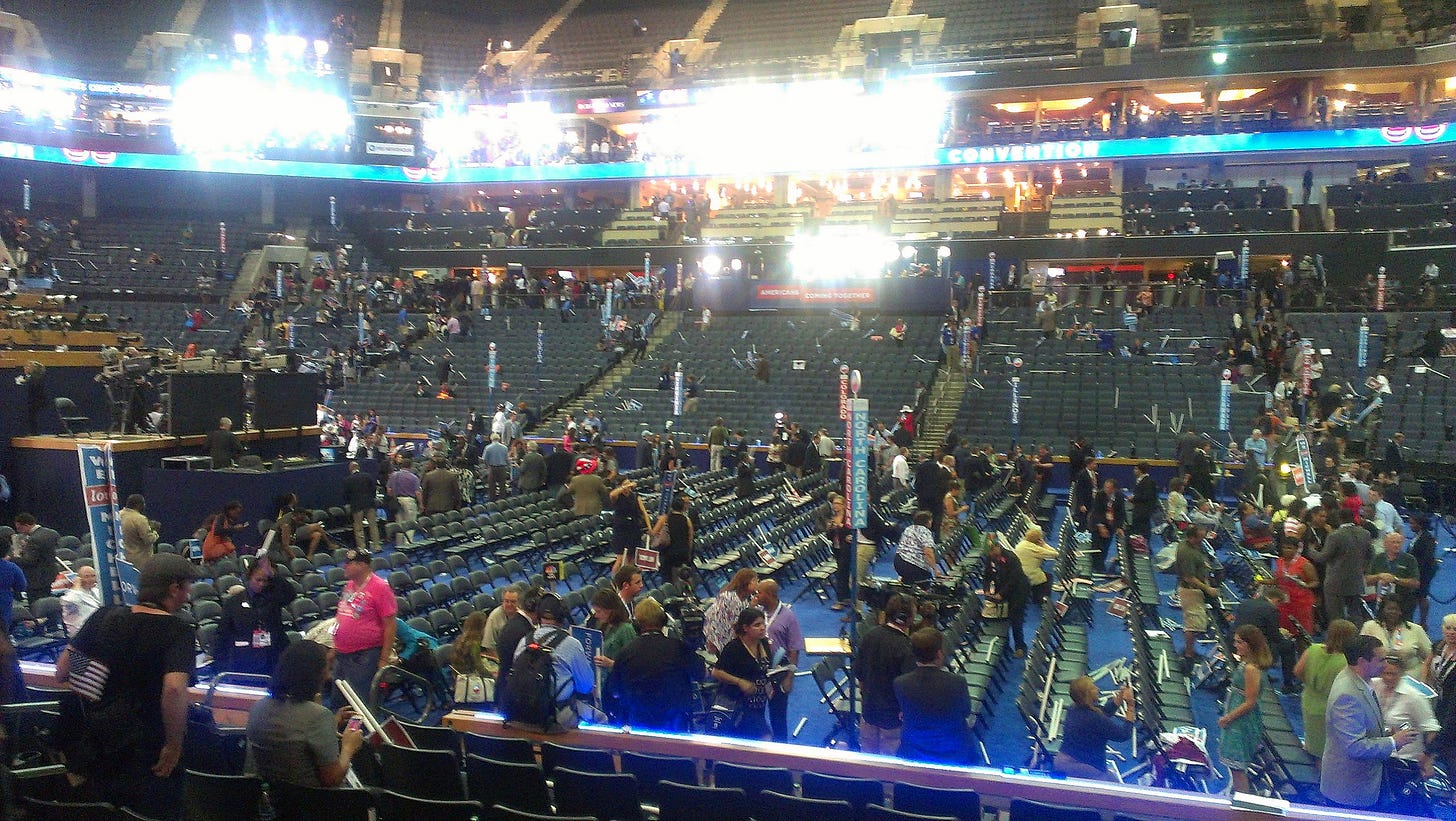 Democratic nation Convention, Charlotte, NC, 2012, where Joe Biden last accepted a nomination. Photo credit: Steve Bott, Wikimedia Commons
Are you planning next week's Democratic National Convention watch schedule? Well, you should be. Programming runs from 9:00-11:00 EST, Monday through Thursday, and the one thing I can guarantee you is that Joe Biden will be nominated, and no one will be in Milwaukee who doesn't already live in Milwaukee.
I got the lineups today, and it looks like the Biden campaign is jacking up the suspense on the Veepstakes. There is a space for the Vice Presidential nominee on Wednesday night. Still, all the top candidates for that office — Kamala Harris, Tammy Duckworth, Elizabeth Warren (it is doubtful, in my view, that she is still a prime candidate since consensus seems to be developing around a historical woman of color candidacy)—currently have scheduled speaking slots.
All, that is, but former National Security Advisor Susan Rice (my mother's favorite candidate, if you are following the Philadelphia suburbs betting pool) and Representative Karen Bass. Wha-a-a-a-a?
What does it mean? Keep refreshing your browser for the next two days, and the mystery will be solved. Here are speakers you will not want to miss:
Monday, "We, the People:" Senators Catherine Cortez Masto, Doug Jones, and Amy Klobuchar; Governor Andrew Cuomo; Representative Jim Clyburn; Former Governor and Republican Never-Trumper John Kasich.
Highlights: Senator Bernie Sanders will open, and Former First Lady Michelle Obama will close. In between, you may wish to knit, dust, or write a poem.
Tuesday, "Leadership Matters:" Former Acting US Attorney General Sally Yates, Minority Leader Chuck Schumer, former President Bill Clinton, and Former Second Lady Dr. Jill Biden.
Highlights: Representative Alexandria Ocasio-Cortez, and the roll call of states to nominate Joe Biden.
Wednesday, "A More Perfect Union:" Former Secretary of State Hillary Clinton, Senator Elizabeth Warren, Former Congresswoman Gabrielle Giffords, and "the Vice Presidential nominee."
Highlights: Pretty much, everyone. Speaker Nancy Pelosi opens, Former President Barack Obama closes.
Thursday: "America's Promise:" Mayor Keisha Lance Bottoms, Mayor Pete Buttigieg, Senator Tammy Baldwin, Senator Tammy Duckworth, Senator Kamala Harris, and The Biden Family.
Highlights: Cory Booker is a terrific orator, and worth tuning in early for; Joe Biden accepts the nomination at the end of the evening: expect a barn-burner speech at both ends of the program.
Where do you watch? The official live stream for the 2020 Democratic National Convention will be hosted on DemConvention.com, where viewers can also find the full convention schedule, a digital toolkit to get involved, more resources for viewers, delegates and the media and additional plans and details.
Claire Potter is co-executive editor of Public Seminar, Professor of History at The New School for Social Research, and author of Political Junkies: From Talk Radio to Twitter, How Alternative Media Hooked us on Politics and Broke Our Democracy (Basic Books, 2020). You can tweet with her @TenuredRadical.