Discover more from Political Junkie
News you can use about politics, culture, media, and higher education.
Over 4,000 subscribers
On March 22, Charlie Kirk, of Turning Point USA, a far-right conservative youth group aligned with Donald Trump, tweeted this: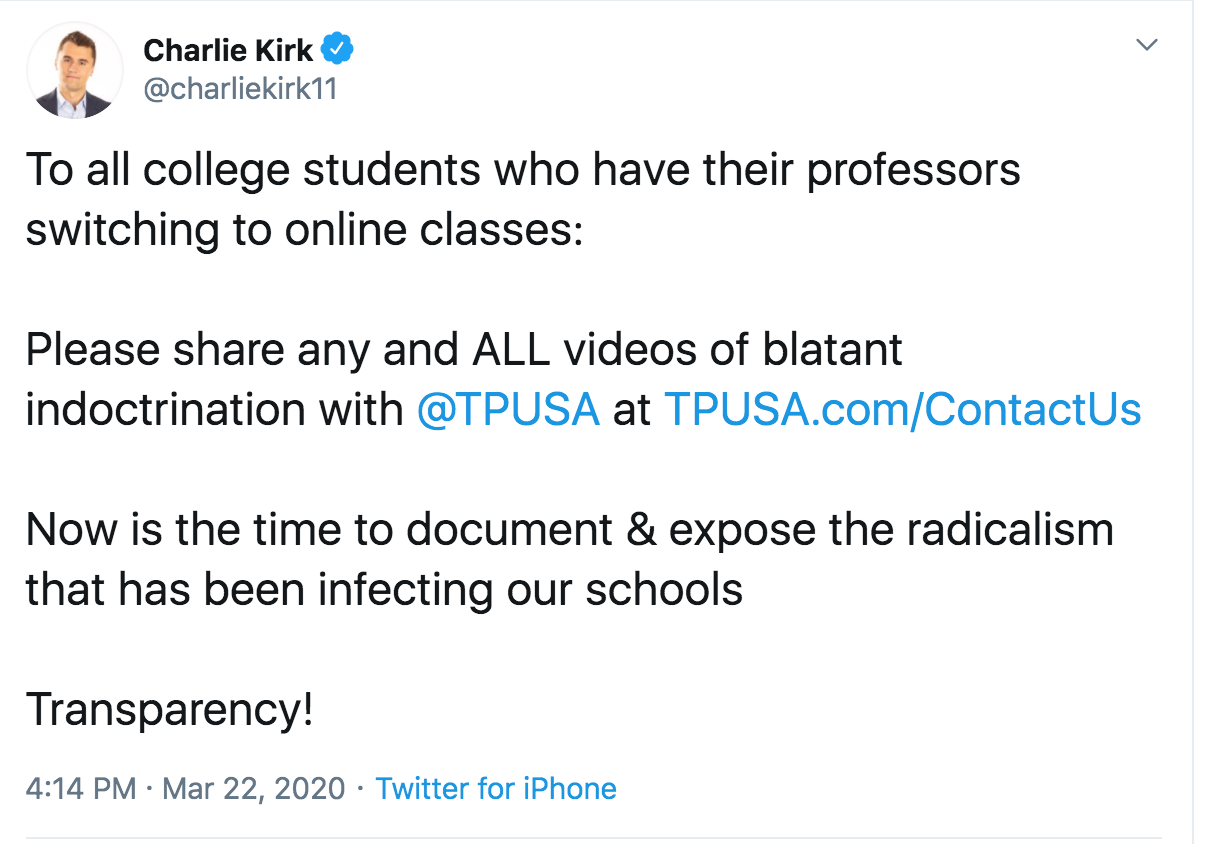 It had the intended effect, as far as I can tell: compounding the current state of controlled chaos that is currently higher education with a dose of fear. Unfortunately, colleagues have responded to this empty threat in droves. It has come up in nearly every conversation I have been in as my university responds to the coronavirus pandemic. I am seeing responses to it all over social media. Colleagues, even those with job security, have expressed grave concern that the online lectures they are posting, as well as recorded Zoom sessions stored for students with glitchy technology, will be sent to TPUSA and result in harassment and even loss of employment.
Bullsh*t.
I would like to make this point very clear: Charlie Kirk is a well-paid troll, he is nothing but a troll, and he has no standing in higher education. Furthermore, all of you, everywhere, have more important things to worry about than a Trump sycophant who never went to college in the first place, but now styles himself as a higher education expert. And our universities have more on their plates than disciplining faculty en masse for teaching feminism and capitalism studies courses.
Here's the good news. It seems quite clear to me that, despite Donald Trump's relatively stable approval rating, the coronavirus crisis is producing a political crisis within conservatism that some of Trump's allies are trying to conceal and obscure by seeding chaos. That crisis has been growing for some time. The Never Trump crowd formerly at The Weekly Standard continues to resist under the banner of The Bulwark. Ann Coulter, who broke with Trump over a year ago for his failure to build "the wall," or the conservative Washington Examiner that has made on its increasingly critical coverage of the White House by highlighting its public health fumbles.
Trolls like Charlie Kirk specialize, not just in lies and disinformation, but in distracting us from our work and Donald Trump's failures.
Don't fall for it. And Charlie, if you're out there?
Come and get me.
What we are reading:
Prime Minister Boris Johnson tests positive for the coronavirus, and self-isolates. (Charlie Cooper, Politico, March 27, 2020)

Donald Trump repurposes Easter as a political event: what could go wrong? (Richard North Patterson, The Bulwark, March 27, 2020)

Evangelicals who are pro-Trump and anti-science bear moral responsibility for the spread of coronavirus. (Katherine Stewart, New York Times, March 27, 2020)
Resources: