Discover more from Political Junkie
News you can use about politics, culture, media, and higher education.
Over 4,000 subscribers
Does Our Suffering Matter?
What rituals of renewed faith teach us about overcoming tyrants and false gods
For those who celebrate them, Passover and Easter have a special significance this year as the world grapples with the novel coronavirus now known as COVID-19.
Both religious holidays foreground the determination of a corrupt, undiscerning, and violent despot to stifle a true religion. Each holds out the hope that by passing through a period of suffering and remaining true to its core values, a people can renew life in the face of an existential threat. Each also shows how majorities are often deceived by false gods and false leaders, promoting tyranny over justice and freedom.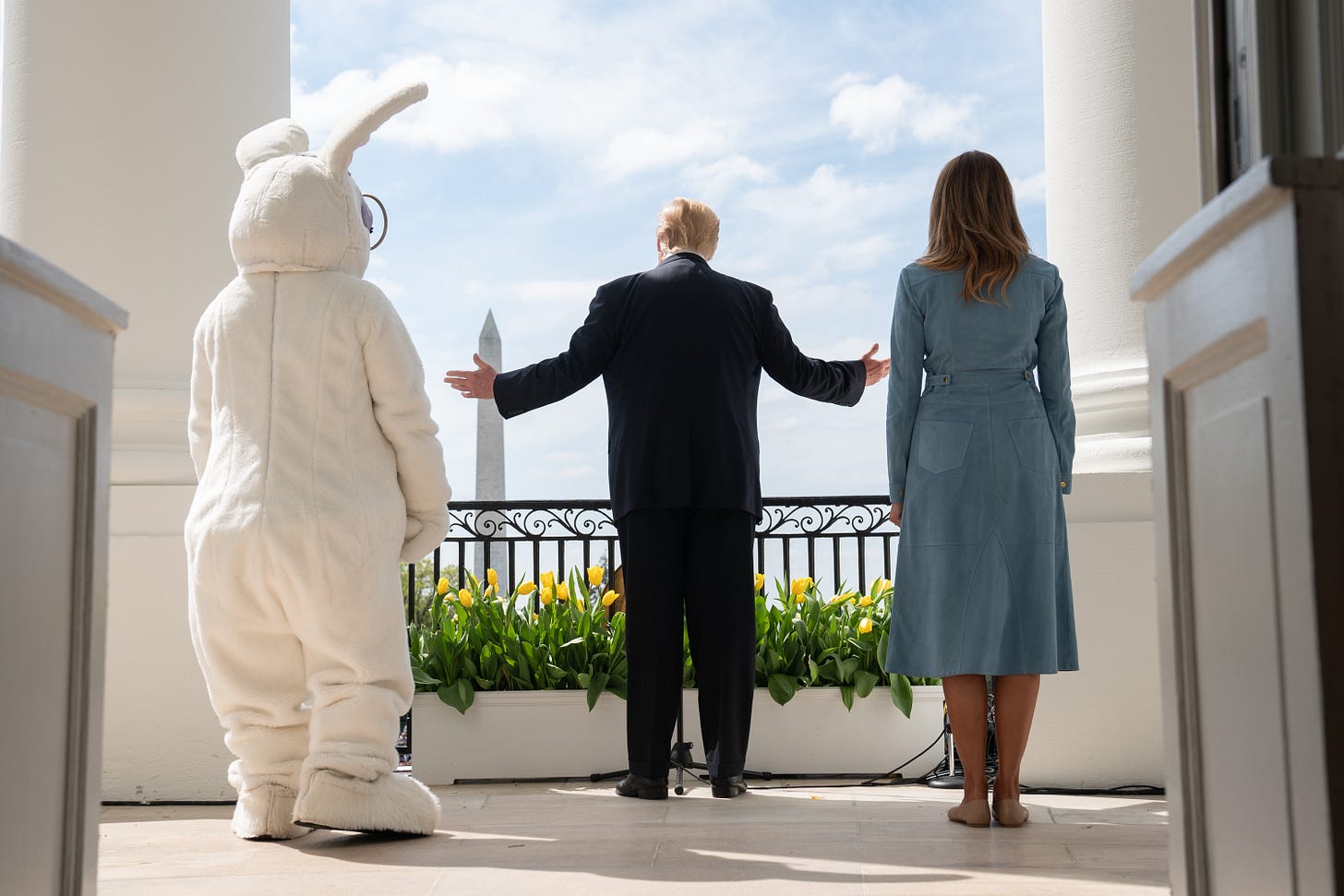 As we celebrate our communal values at home this week, those of us who are in flight from COVID-19 must remember that pain is part of the path to renewal. Our annual celebrations of courage and faith can be the starting point for a quiet, determined assault on the false gods and fraudulent beliefs that brought us to this terrible place.
Let's begin by acknowledging that Trumpism is a false religion, even — or especially — by the standards of American conservatism. A faith now fervently embraced by the GOP and promoted by the endless reiteration of political fictions, Trumpism is not just killing us with a virus. It has also woven itself into the very DNA of our government and political system, nearly overwhelming democracy's immune system. As a result of ongoing fakery practiced by the president, White House aides, Congressmen, Senators, governors, local officials, and evangelical leaders, in three years of Republican rule, large numbers of Americans have also learned to embrace lies and conspiracy theories as if they were legitimate politics. Many Americans have simply become indifferent to the toxicity of official falsehoods, accepting them as the natural order of things—or as an invention of the "liberal media."
Nevertheless, all sacred texts—even those written by Karl Marx!—reassure us that truth has a way of resurrecting itself. But tyrants don't make it easy. When caught in their lies, Trump and his enablers fire back that assertions of fact are themselves lies - or, as Kellyanne Conway asserted early on in the administration, only "alternative facts." And when presented with actual events and knowledge that threaten his political Potemkin village, Trump simply disregards them, brushes them aside as unimportant, or tells those who articulate them that they are "nasty" and "dishonest" people.
But everyone in public life lies, Trump supporters would argue. Why must the president be held to a strict standard of truth?
Well, now the marshmallow chickies have come home to roost. As they used to say about George W. Bush and the Iraq war, "he lied, we died." Today's big story in the New York Times details how Donald Trump personally impeded a timely response to this terrible accident of history.
Read the story and weep — if you have any tears left. In a Pulitzer-prize caliber account supported by leaked administration emails, reporters Eric Lipton, David E. Sanger, Maggie Haberman, Michael D. Shear, Mark Mazzetti, and Julian E. Barnes tell the story of a President repeatedly refusing the truth.
Highlights of this story include:
Donald Trump and Mike Pompeo insisted on the phrase "Chinese virus" or Wuhan virus" in their messaging, despite others in the administration begging them to stop. Blaming China was a stupid hill to die on, not just because this kind of gratuitous insult has nothing to to with public health policy, but also because infections don't have a nationality. Epidemiologists name viruses for the circumstances associated with their diagnosis. "German" measles, for example, did not originate in Germany; the virus, which occurred everywhere, was identified as unique by a German physician. But labeling also creates fatal misdirection in public perceptions of a disease and how it spreads. Does anyone recall how many hemophiliacs, drug users, and (gasp!) straight people became infected by the "homosexual disorder" first diagnosed in urban gay men in 1982?

More importantly, the insistence by the Trump administration that diseased foreigners were harming Americans, the story notes, intensified the public health crisis. It triggered violence against Asian-Americans as if they alone transmitted the disease. It left borders open to travelers from Europe long after, absent testing or screening, they should have been closed. An intensification of the Trump administration's economic vendetta against China, this international insult impeded the flow of medical supplies primarily made in China to hospitals, nursing homes, and eldercare communities in the United States.

Until immunologist and global health researcher Deborah Birx came on the scene, using forms of feminine persuasion that the president was willing to hear (he described Birx as "very elegant"), Trump unilaterally refused the fatal implications of keeping America open for business, leading to weeks of unnecessary viral transmission.

And then there was the moment when Trump suggested that the virus simply be allowed to proceed, in a "wave," over the nation, potentially killing millions — but leaving everyone who survived immune!
I won't delay you further: you need to read that article. I am, however, intrigued by this question: who leaked all those emails? Some brave soul who has somehow escaped being purged by the president? Could it be Mike Pence, a former governor and the one person Trump can't fire, who is either managing a last-ditch effort not to let his political career go down with the ship—or who has retained, at long last, a shred of decency?
I will leave you with this thought. Republicans in the House and the Senate fought Donald Trump's impeachment tooth and nail. They have repeated his lies, and they have supported his gross incompetence to bring it home for the business class, which is their primary constituency. Political weasels all, they have believed all along that defending the Trump presidency, and currying favor with the Fox News crowd, was critical to winning re-election in November.
Don't let them. Vote as if your life depended on it.
What we're reading:
Did Joe Biden sexually assault Tara Reade in 1993? Lisa Lerer and Sydney Ember untangle the web of assertions and denials and point to one glaring issue: sexual predators tend to repeat their crimes in similar ways. But there is no second accuser. (New York Times, April 12, 2020)

Public Seminar's Senior Managing Editor, Helaine Olen, argues that Bernie Sanders's ideas will become more influential over time. More wedded to organizing than voting, Sanders supporters will go to the ballot box more frequently as they age. (Washington Post, April 10, 2020)

At The Columbia Journalism Review, Betsy Hartmann reports on how right-wing media have pivoted from climate change denialism to blaming environmental damage on immigrants. (Spring, 2020)

Worried about people you love being dead? Donald Trump will memorialize your dear ones (currently piled in a refrigerated trailer) with piles of money! As Trump told Jeanine Pirro last night on Fox News, his administration is "going to `rebuild' the economy `again in honor of all those who perished.'" He also took credit for inventing social distancing, something no one had ever heard of before. (Summer Concepcion, Talking Points Memo, April 12, 2020)

Why does Donald Trump hate the post office? Heather "Digby" Parton explains it all to you. (Digby's Hullabaloo, April 11, 2020)
Resources: