Fun with Anti-Trump Attack Ads
They're not just for Republicans anymore
As a Private American Citizen, I want to point out how relieved I am that some Democrats are finally going full Lee Atwater on Trump. I am talking about the Meiselas brothers — Ben, Brett, and Jordan — a trio of tech-oriented dudes who have collectively launched a political organization that is "reimagining progressive ideals for the rapidly changing digital age."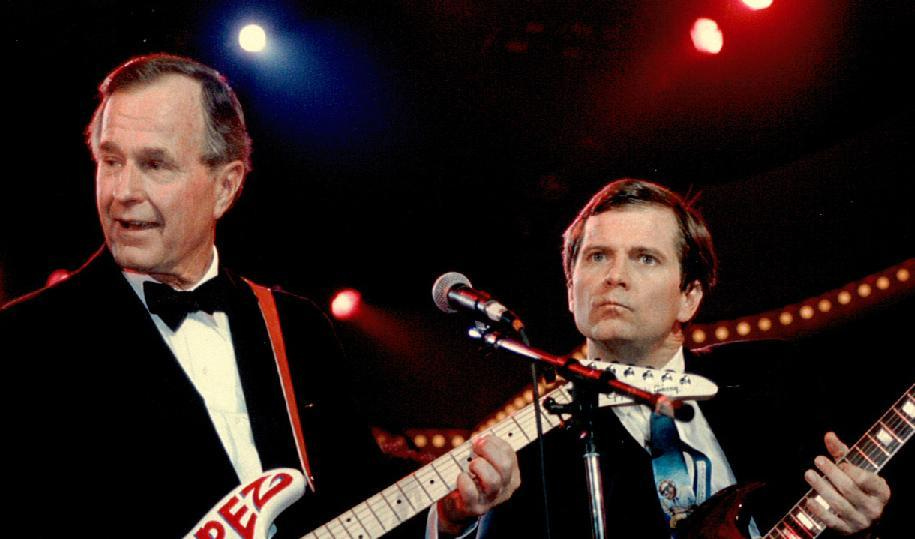 Political consultant Lee Atwater "jams" with President George H.W. Bush on inauguration night, 21 January 1989. Atwater reinvented "dirty tricks," and was responsible for the racist
Willie Horton ad
. (
Official Presidential photograph
.)
That's a euphemism for attack ads distributed on social media, reader! And the videos they have been distributing have made effective use of all the images generated in recent days, as Americans have taken to the streets, paired with other visual cues which remind us that Donald Trump and his family members really don't care — do u?
The Meiselas brothers' company is called MeidasTouch, and it answers a question we have been asking for four years. "Democrats! When, exactly, do you plan to get down in the mud and fight Donald Trump where he lives?"
Clearly, "Be best," noble idea that it was, did not work in 2016. So let's try a good knife fight. Here is MeidasTouch's latest offering, "Bye, Ivanka: A Public Disservice Announcement."
Top that one, Brad Parscale. You can watch the other videos, most released in the last week, here.
And do check in with Public Seminar today: this morning Laura Briggs on the theft of children as an act of state terror in already up, and Pat Garofalo, on Elon Musk, publishes at noon.
What we are reading:
Do I read myself? Yes, I do read myself: at the end of last week, I explained why the cost of tuition is dragging down students, their families, and higher education as an economic structure. "The Only Way to Save Higher Education Is to Make It Free." (New York Times, June 5, 2020)

Senior managing editor Helaine Olen thinks it is great that major American corporations are making statements against anti-Black racist violence. But talk is cheap. (Washington Post, June 6, 2020)

Is it possible that Donald Trump has broken the conservative movement more effectively than the Democratic party could have? (Jonathan Martin, "Vote for Trump? These Republican Leaders Aren't on the Bandwagon," New York Times, June 6, 2020)

Tim Wu argues that "Trump's Response to Twitter Is Unconstitutional Harassment." (New York Times, June 3, 2020)
Resources: