Discover more from Political Junkie
News you can use about politics, culture, media, and higher education.
Over 4,000 subscribers
Joeypalooza!
The Biden campaign comes roaring back to give Bernie Sanders a cold shower on Super Tuesday
Want to read this post at Public Seminar? Click here.
Last night, as Vice President Joe Biden shocked us by easily rolling up Virginia, North Carolina, Alabama, Tennessee, and Oklahoma, we were reminded of something we read back in the twentieth century. It was written shortly after Biden, then in his third term as a Senator tried, and failed, to win the Democratic nomination in 1988.
"What he was, was tough from the neck up," Richard Ben Cramer wrote about Biden in What It Takes: The Way to the White House (1992), "but it wasn't just fights: if you could run," one of Biden's friends would tell you, "Joe Biden could run faster. If you had a dog, they'd say Joe's dog, King, could murder your dog. Joe was the guy they turned to when the question arose: What are we gonna do? Joe always had an answer."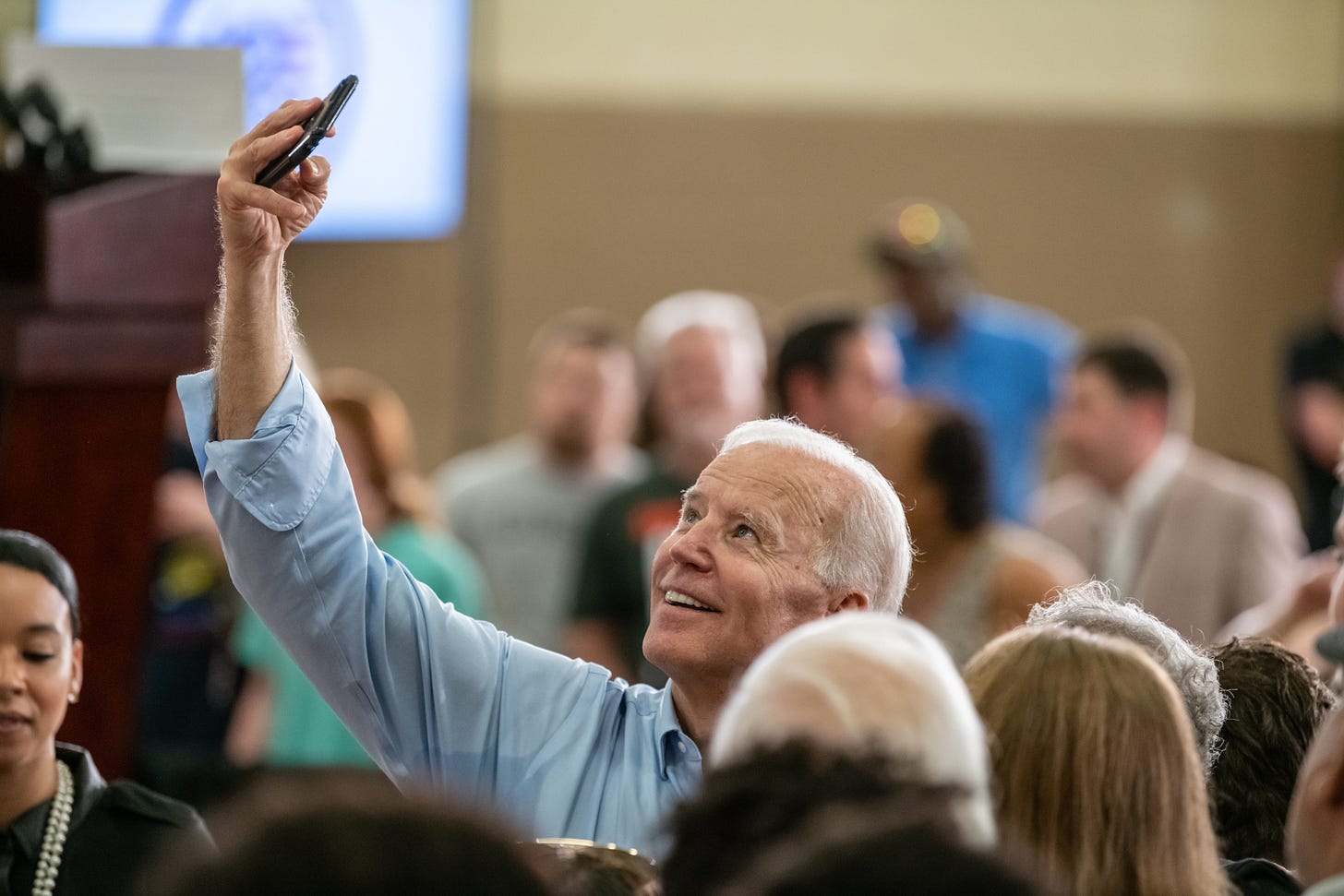 This week, Joe's answer to the Bernie Sanders juggernaut was: South Carolina Congressman James Clyburn. The House Majority Whip's endorsement not only powered a Biden win in that state (Biden's first presidential primary win in three separate campaigns) but also seems to have triggered a massive turnout of African American voters for a man Clyburn described as "a good man" and "the best candidate for our caucus." 
In that endorsement, Clyburn also delivered a stinging rebuke to the insurgent left wing of the Democratic party, specifically Sanders's Congressional allies, Alexandria Ocasio Cortes, Rashida Tlaib, and Ilhan Omar; as well as Ayanna Pressley, who has endorsed Senator Elizabeth Warren. As Emma Dumain of the Columbia SC State reported it  (March 2, 2020):
"These four women are fantastic congresswomen, very progressive, but they did not flip a single seat, so I don't understand why people think this party should shift to their way of doing things and pick up Medicare for All. ... There is not a single person who put us in the majority who supports Medicare for All," Clyburn continued.

"We would be stupid to say to them, 'the hell with y'all, we're going to go with these four people who didn't flip no seats,'" Clyburn added, referring to the message that an embrace of a Medicare for All health care plan at the top of the ticket would send to moderate Democrats.
We wonder: did the Sanders campaign focus so intently on overturning the establishment that it underestimated the determination of ordinary Democratic voters to stand behind their party?
To help you think about this, and prepare you for March 10, when six more states, including Michigan and Washington, go to the polls, we begin our Politics section this week with an essay by Senior editor Jeff Isaac about Bernie Sanders's political style. Sanders's rallies, stump speeches, and pugnaciousness in debates has galvanized a range of voters but reduces other Democrats to a state of mind that ranges from anxious to terrified. Sanders is capable of delivering a decent unity message. But his campaign message is consistent, as Isaac writes. It is "not simply adversarial, but antagonistic," alienating large portions of the party Sanders would if he won the nomination, lead. In a similar vein, Jeffrey Tulis imagines what New York City Mayor Michael Bloomberg might do to unify Democrats – and it doesn't include staying in the race. Finally, Leo Casey brings his experience at the bargaining table to bear on a critical issue for the Democratic nominees: how to reform our health care system without demanding too much – or too little.
In our continuing focus on Democracy around the world, Jeffrey Wasserstrom looks at Hong Kong's recent past, and how decolonization set the stage for the current political unrest in a city coming to terms with Chinese rule. Next, Jeffrey Librett turns his eye on Trumpism – and explains why the statement "no one is above the law" does not constrain authoritarianism. Finally, in Episode 7 of Exiles on Twelfth Street, our Public Seminar podcast team examines the foundation of democracy: the news. Pay special attention to our exclusive interview with Robert MacNeil, a legendary newsman and co-founder of the PBS NewsHour.
Our final section this week looks at contemporary culture. Political scientist David Lay Williams takes a close look at Bong Joon-ho's award-winning movie Parasite, and answers the question you have been waiting for: what's up with the Scholar's Stone? Public Seminar Senior Editor Julia Foulkes looks at the origins of Jerome Robbins' hit musical West Side Story, now in revival on Broadway, in New York's gay bohemia after World War II. Finally, the Past Present history podcast team – Senior Editors Natalia Petrzela, Nicole Hemmer, and Neil Young – look at the origins of fat activism in the body positivity and queer liberation movements.