Discover more from Political Junkie
News you can use about politics, culture, media, and higher education.
Over 4,000 subscribers
Keep Off the Grass (Roots)
Why nominating Michael Bloomberg could trample a Democratic party that is growing and expanding through community organizing
One of the things I love about Public Seminar senior editor Jeff Isaac is that I can be sitting at my desk on a Sunday night, trying to chip away at emails, and suddenly a terrific post about Michael Bloomberg lands on my desk.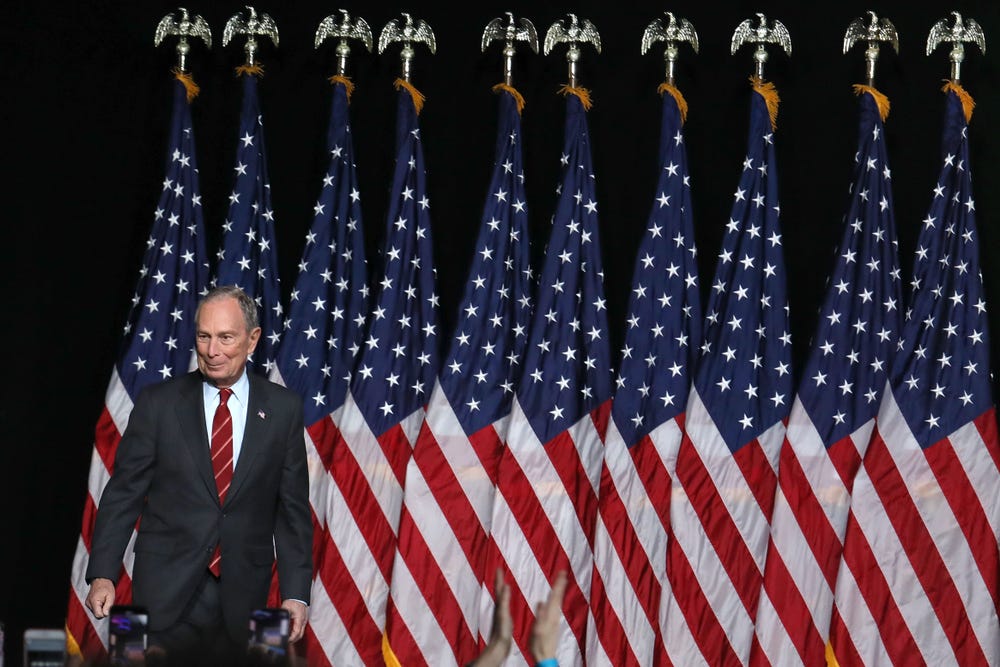 In this latest addition to the Election 2020 coverage that he and I are organizing, Isaac tackles the possible negative consequences for the Democratic party of a Michael Bloomberg candidacy, should a coalition of independent and Never Trump voters coalesce around it.
In the post, Isaac argues that there are two reasons that Bloomberg could be, as he puts it in his typically measured way, a "disaster:"
The first is simple: Bloomberg is not a Democrat, and his political record is anathema to even the most vaguely defined Democratic agenda. It's true, he was a Republican mayor of New York, a social liberal far from the positions of a Jefferson Beauregard Sessions or Lindsey Graham (it is true that Giuliani was also such a mayor, and that in many ways Giuliani and Bloomberg come from the same swamp, as does Trump himself). But he was a Republican mayor nonetheless, and the positions he supported as the chief executive of the most important city in the country were conservative positions. We are now being treated to an outpouring of revelations, or mere reminders, regarding his views on "stop and frisk," aka/police brutality (good), redlining (not so bad), "fight for $15" minimum wage laws (bad, until two days ago), redistributive tax policy (very bad, until maybe yesterday), and capitalism in general (fantastic). In the era of #MeToo he has a terrible record of sexism. And at a moment when House Democrats have staked their future on policies promoting greater fairness and democracy, Bloomberg only recently declared that "Xi is not a dictator."

These are terrible positions for anyone claiming leadership of the Democratic party to have. Indeed, they make a mockery of the powerful and serious debates that have been going on within the party in recent years, debates to which tens of thousands of activists have devoted much time and energy.

And this leads to the second reason why his candidacy is a disaster for the Democrats: because it can have no other consequence than the exacerbation of differences within the party, most especially the alienation of substantial numbers of women voters (precisely the ones activating the 2018 Blue Wave) and African-American voters, and more importantly the humiliation—beyond alienation—of the mainly young voters and activists who have taken up the banner of Bernie Sanders since 2016, and have thrust Sanders to the very forefront of the primary contest and the party. This group does not deserve a "veto power" in any simple sense—no group does. But it clearly comprises a highly mobilized constituency that articulates real issues and represents an important part of the future of the Democratic party as a party—if it is to have a future.
You are going to want to read the rest of this post. Click here to go to Public Seminar, where it just published this morning.
Let's talk about the nastiness:
El Rushbo, Presidential Medal of Freedom winner, takes charge of national morality: Rush Limbaugh doubts that Democrats will vote for a man, Pete Buttigieg, who is "kissing his husband onstage" after political debates (for accuracy's sake, I have never seen this happen — only super-manly embraces.) Limbaugh, a recent winner of the Presidential Medal of Freedom, is the same person who nicknamed our last president "Barack the Magic Negro." (Alan Fram, Associated Press, February 13, 2020)

Atta boy! Pete Buttigieg says he is not going to take "lectures on family values" from Limbaugh or Donald Trump. (Colin Campbell, Yahoo News, February 16, 2020)

Department of decency: Elizabeth Warren came to Buttigieg's defense in a tweet, calling Limbaugh's remarks "hateful." (The Hill, February 14, 2020) So did Joe Biden , calling the statement an example of the Trump administration's "depravity."(Zack Budryk, The Hill, February 13, 2020)

Which Democratic voters think the homophobic taunting of a presidential candidate doesn't matter? Bhaskar Sunkara, editor of Jacobin and an outspoken Sanders supporter, retweeted Warren's statement of principle with the comment: "Limbaugh is disgusting. But if Democrats want to beat Trump, they'll have to run on issues that matter to most voters — this recent focus on abusive language, harassment of candidates, etc. does not put the conversation in a good place for the general election."

Oh — these voters! The Sanders campaign is coming under increasing fire for online harassment and abusive behaviour, which was also a feature of the 2016 campaign. Most recently, it has been directed against the leadership of the Nevada Culinary Workers' Union, mostly women of color, which has declined to endorse Sanders because of policy disagreements about M4A. (Rebecca Falconer, Axios, February 16, 2020)

Dios Mio! Amy Klobuchar and Tom Steyer are unable to name the President of Mexico during a town hall hosted by Telemundo. (Peter Wade, Rolling Stone, February 15, 2020)

Footnote: why is Tom Steyer still here?

Hell to the no, part eleventy: Kellyanne Conway says that Michael Bloomberg's alleged sexist comments in the workplace are "much worse" than Trump's (Summer Concepcion, Talking Points Memo, February 16, 2020)

Don't lose your sense of humor: Fox News reports that a Bernie Sanders rally in Nevada was interrupted by topless animal rights protesters protesting his support of dairy farmers. I bet they care about homophobia too. (Bradford Betts, February 16)