Discover more from Political Junkie
News you can use about politics, culture, media, and higher education.
Over 4,000 subscribers
Land, Water, and Humans in the Bengal Delta
A Public Seminar Book Talk | Debjani Bhattacharyya, Empire and Ecology in the Bengal Delta: The Making of Calcutta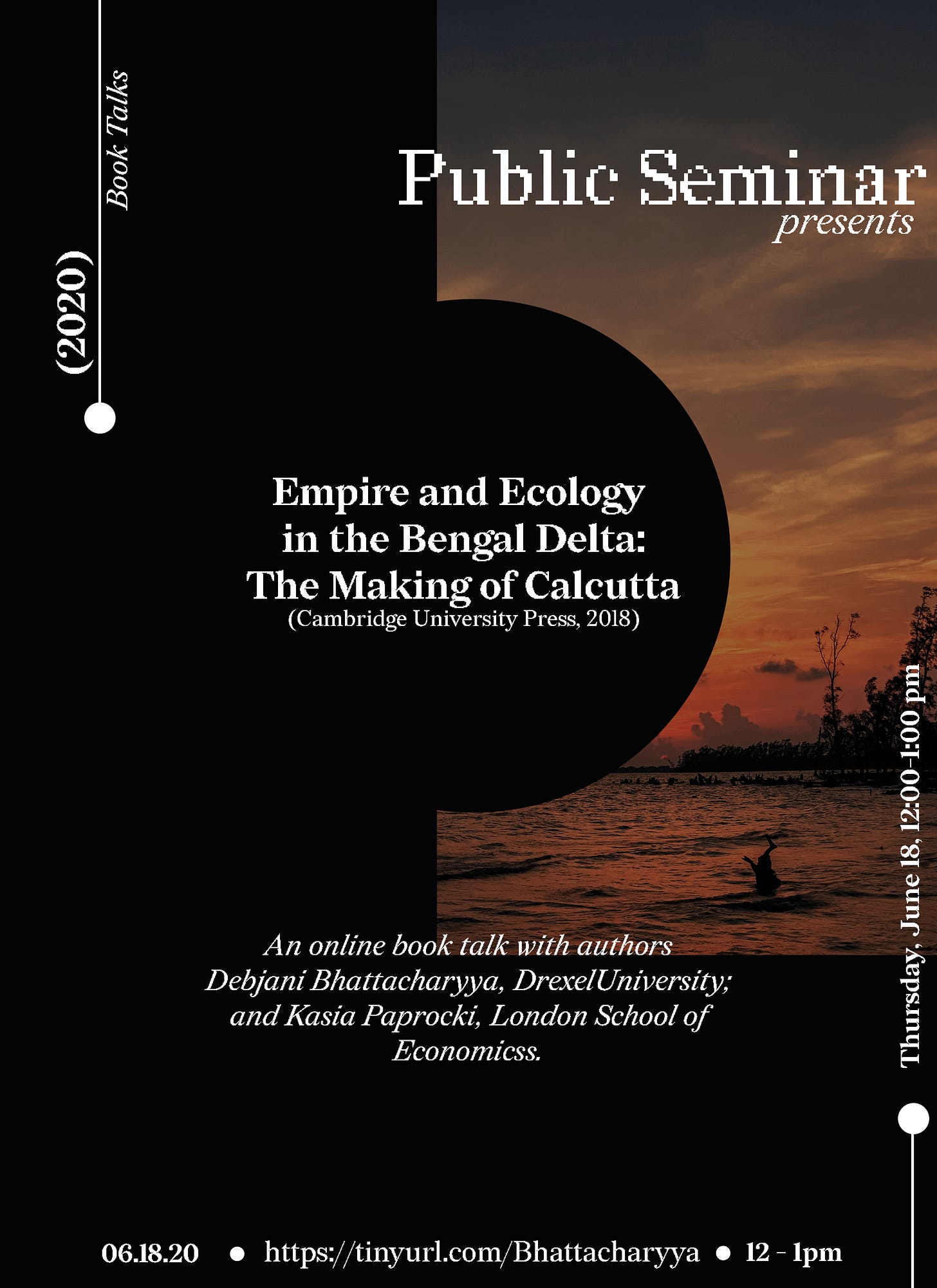 This live webinar is on Thursday, June 18, 2020, from 12:00-1:00 PM EST.
What happens when a distant colonial power tries to tame an unfamiliar terrain in the world's largest tidal delta? This history of dramatic ecological changes in the Bengal Delta from 1760 to 1920 involves land, water, and humans, tracing the stories and struggles that link them together. Pushing beyond narratives of environmental decline, Bhattacharyya argues that 'property-thinking', a governing tool critical in making land and water discrete categories of bureaucratic and legal management, was at the heart of colonial urbanization and the technologies behind the draining of Calcutta. The story of ecological change is narrated alongside emergent practices of land speculation and transformation in colonial law. Bhattacharyya demonstrates how this history continues to shape our built environments with devastating consequences, as shown in the Bay of Bengal's receding coastline.
Join Public Seminar's co-executive editor Claire Potter and her guests, Kasia Paprocki, of the London School of Economics, and author Debjani Bhattacharyya, of Drexel University, as they explore the environmental history of Calcutta.
Register for this event here: You will receive a link to the webinar the morning of the event.
Purchase Empire and Ecology in the Bengal Delta: The Making of Calcutta (Cambridge: Cambridge University Press, 2018) here.
What we are reading: