Discover more from Political Junkie
News you can use about politics, culture, media, and higher education.
Over 4,000 subscribers
Move Fast and Break Things
The youth of our country need older people more than ever: tell them you trust them and believe in them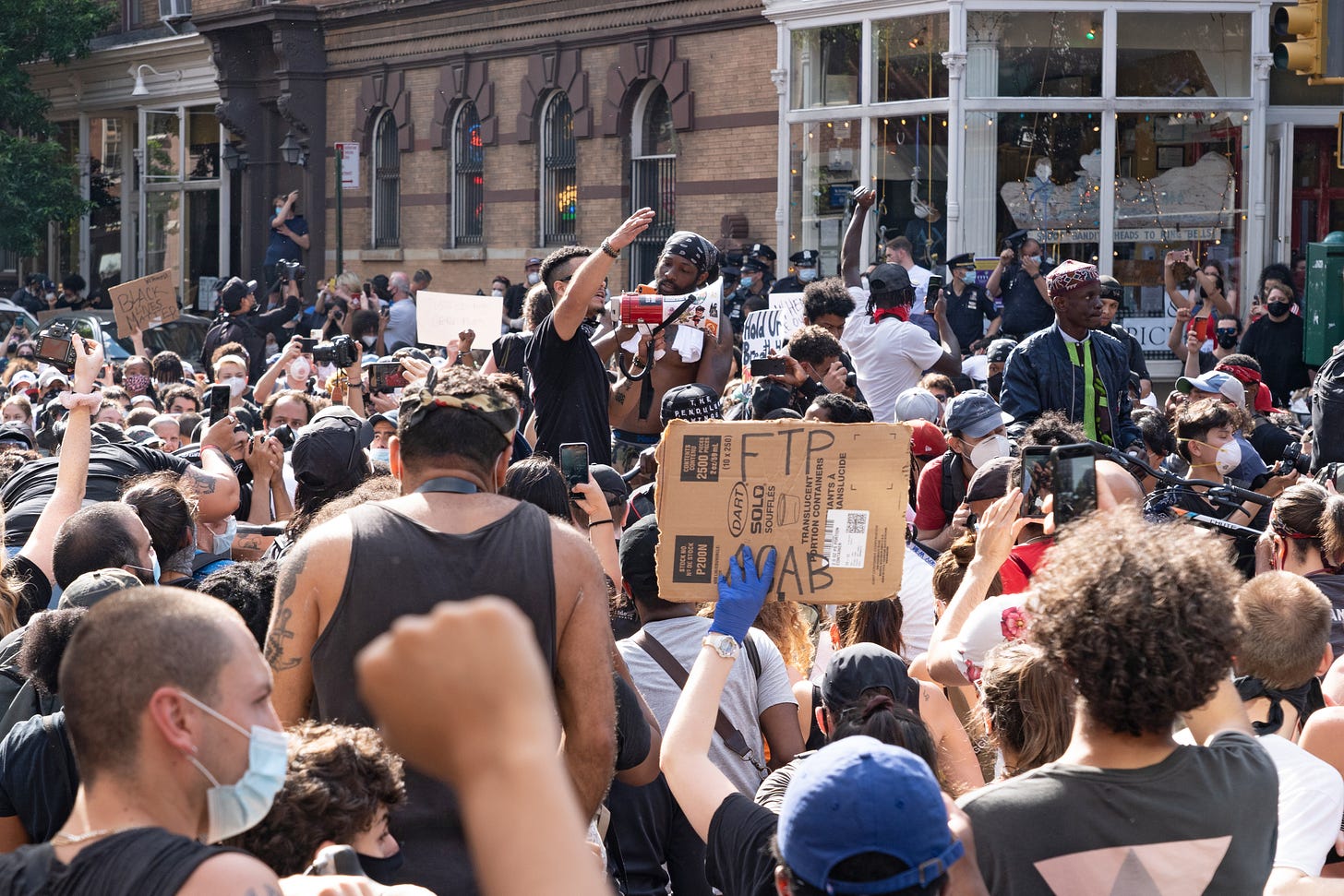 Protesters muster in lower Manhattan, May 30, 2020. Photo credit: Ron Adar/Shutterstock.com
I have been watching the disintegration of Manhattan from a bolt hole in Massachusetts since March 15, and it hurts. For weeks, it hurt to watch the pandemic escalate, knowing that it was taking a particular toll on the already vulnerable working-class communities of color that are New York's bedrock.
It hurts to think about the spike in Covid-19 infections that is less than ten days away.
It hurts to listen to the interviews with young African-American activists, pushed into the streets by the murder of George Floyd, talking with deep emotion about lives lived in anxiety because of white supremacist violence.
It hurts to watch the destruction that is now occurring as looters and vandals follow, only there for the party to smash and to steal, linger behind peaceful marchers. Violence, it appears, is part of the cost of a broken social contract, a broken presidency, and a broken justice system.
It hurts to admit the truth: the youth are not breaking things that are not already broken.
Late last night, as a group of looters poured into Macy's in Herald Square, I cracked: I don't even shop at Macy's, but it still feels like a cornerstone of the city I moved to after I graduated from college. Vandalizing Macy's feels like kicking Santa Claus in the family jewels. And of course, less than twenty blocks from Macy's is my house.
I texted my old friend Jeff to find out if the violence had made it to our neighborhood. It had not, nor had the Union Square protests made it further west than Sixth Avenue. Once we had expressed our love and inquired into each others' health and safety, Jeff texted:
"Claire, how scared are you?"
There was a brief pause and then a second text: "I'm scared, but I'm on my feet."
It isn't the first time Jeff and I have been to this rodeo. We know from scared. We reminisced about the AIDS pandemic of the 1980s when every protest felt like life and death. They actually were life and death, since many of our fellow protesters were in the process of dying. Sometimes a march would stop, and we would all lie down and "die," staring up at the sky peeking between the buildings until an ACT UP marshal would blow a whistle, and we would jump to our feet, chanting.
It felt great. But it is also hard to describe how frightened and angry we twenty-something queer people were. These emotions drove us into the streets by the hundreds, far fewer numbers than the crowds that have mustered in the last week.
"We were so much younger then," I texted.
"We were," Jeff responded, "Which makes it different. We were so scared."
"And then somehow we managed," I wrote back. "Sometimes, now, I lose my confidence now that I can manage."
"Same here," Jeff texted. "But Claire, remember how many times we thought we couldn't manage then?"
"Yes. And we did," I responded.
"We did," Jeff wrote. "And now we're so old that we get to tell the young ones that they can manage now."
As usual, my friend brought things into focus. It is about the youth, not us.
Do I worry about whether my home and my university will survive this urban rebellion? Yes, I do. But I am more worried about what will happen if the anti-racist youth who have mobilized by the thousands in multiple cities are, once again, thwarted, forced into living half-lives enforced by police violence, debt, and gig jobs.
So I ask you, young people, are you scared?
Of course, you are. You should be scared. But you are strong. You are doing what you should be doing. Move fast. Break things.
You will manage. We believe in you.
What we're reading:
As I predicted, the conspiracy theorists and disinformation experts have jumped into the George Floyd protests, enhancing the chaos at the expense of peaceful protesters. (Davey Alba, "Misinformation About George Floyd Protests Surges on Social Media," New York Times, June 1, 2020.)

But the United Nations is prepared: you can sign up to be a digital first responder ("UN launches new initiative to fight COVID-19 misinformation through 'digital first responders,'" UN News, May 21, 2020.) H/T Katayoun Chaamany.

What effect will the urban uprisings triggered by George Floyd's murder have on the 2020 election? Political historian Rick Perlstein says they could sink the S.S. Trump. ("Will Urban Uprisings Help Trump? Actually, They Could Be His Undoing," Mother Jones, May 31, 2020.)