Discover more from Political Junkie
News you can use about politics, culture, media, and higher education.
Over 4,000 subscribers
No, RBG Should Not Have Retired
That liberal seat on the Supreme Court was important. But having our finest legal mind on it during the Trump years was important too.
There are many reasons to dislike social media. One is the capacity of otherwise intelligent people to chase their tails more or less the same way they always have. It happened after the 2016 election as grieving Democrats looked for someone--anyone!--to blame for Donald Trump's election-night squeaker. Now you can witness similarly obsessive conversations, this time blunting posthumous praise of Ruth Bader Ginsburg, who died on September 18, for not retiring from SCOTUS in 2014, when she might have been replaced with a younger, cancer-free model.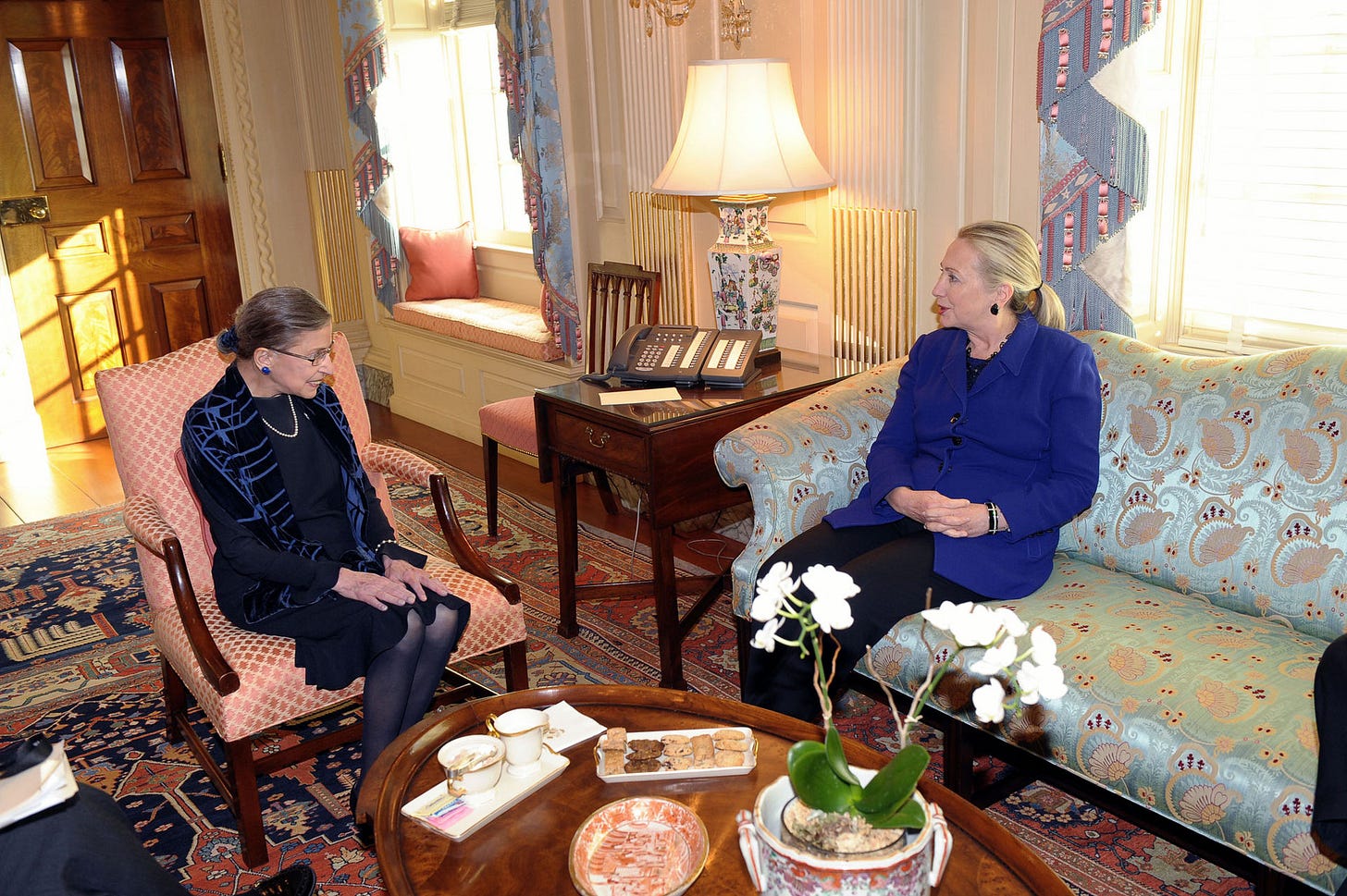 Then-Secretary of State Hillary Rodham Clinton meets with Supreme Court Justice Ruth Bader Ginsburg on January 25, 2012. (Photo credit: State Department/Wikimedia Commons)
Since we are amid the High Holy Days, and Ginsburg left us at 7:30 p.m. on Rosh Hashanah, let's call this criticism what it is: a shanda.
Other than the fact that we have an election to win and time spent on fruitless speculation could be devoted to texting the elderly in Florida, there are many reasons to push back on charges that the Notorious RBG could not leave the spotlight. Perhaps the most important is that it grossly undervalues Ginsburg's intellectual value to the Court in the last six, and especially the last four years.
Increasingly, Ginsburg spoke from the minority, but she did so with great power, anticipating the day when liberalism would once more be in the ascendant. Her dissents in Hobby Lobby (2014) and Little Sisters of the Poor (2020) will prove crucial as a new Biden administration rebuilds, and has to defend, a national insurance system picked apart by the Trump administration. In particular, in these two cases, Ginsburg laid the legal breadcrumbs to overturn restrictions on the reproductive autonomy of women who work for religious institutions and corporations guided by religious conviction. Not insignificantly, these dissents also create a Constitutional track towards asserting national healthcare regulations over private and religious interests, something that will hang in the balance in 2021 and beyond, regardless of who is elected president.
But Ginsburg's presence on the Court also reverberated well beyond legal doctrine: history may show that she played a key role in winning Chief Justice John Roberts' vote in gay rights cases as well. Ginsburg was also a fierce and exacting questioner in oral arguments, not letting attorneys get away with flabby thinking that might create wider openings for the conservative majority. In 2013 Ginsburg's friend, the late Antonin Scalia, noted that "She has done more to shape the law in this field than any other justice on this Court. She will take a lawyer who is making a ridiculous argument and just shake him like a dog with a bone."
Could someone else have done as good a job? Perhaps. The idea that somehow democracy would be in better shape if Ginsburg had left the Court at some point before Mitch McConnell became King of America is persuasive for some. Slate's Emily Bazelon, a legal journalist I respect enormously, has taken this position in an interview with Mike Pesca. So has Stephanie Mencimer of Mother Jones, criticizing what she calls the "Cult of Ginsburg" for having persuaded large numbers of feminists that the Associate Justice was indestructible. And so have dozens of kibitzers on social media whose nerves are profoundly frayed as we head into the final six weeks before the most consequential election since 1860.
I have two questions: Is this second-guessing fair? Is it useful? I am not sure what order to ask these questions in, but both come down to one fundamental problem: that liberals and leftists keep looking for that one thing that would turn this whole mess around, one secret sauce that will keep us all safe. But that can't, and won't happen. Donald Trump's dominance over our political system resulted from a perfect storm of conservative tactics that failed to come together in previous presidencies — Reagan, Bush I, and Bush II — because the Republican party marginalized its own most extreme tendencies. But when Trump opened the door in 2015, they came marching in as all of us sat around with our mouths open and chatted carelessly about voting for Hillary Clinton with a clothespin on our noses.
The rise of extreme conservatism and organized populism in the GOP was a problem that was bigger than Hillary, and not one that could have been turned back by Bernie Sanders victory in either 2016 or 2020. I remember the bitterness on November 9 about everything (it was said) that Hillary Clinton had done wrong, all the things she and her team had screwed up. You could start with "Running in the first place," and then go down a list of things that were easy to second guess: her server, her emails, her speeches to Goldman Sachs, and her hair. Donna Brazile's 2016 post-mortem ripped apart every feature of the Brooklyn campaign headquarters, from the bold young men running the show to the inability to acquire yard signs in Florida.
It's a problem that was bigger than one Associate Justice too (and might I add that anyone can drop dead suddenly — ask Antonin Scalia if you don't believe me.) Ruth Bader Ginsburg was more than a liberal vote. For the past four years, as Chuck Schumer and Nancy Pelosi did their best to minimize the damage in Congress, she was the proverbial Dutch kid with her finger in the dike. Ginsburg kept an ascendant populist right-wing, cultivated over decades at the Federalist Society, from pouring through the hole that Trump built. And she used her time to construct legal precedents that others will use to push them back when the time comes. She did a great job, and I doubt that anyone else could have done better.
Is there someone to blame for 2016? Sure. It's us, people. Perhaps we are so truculent on Facebook because we have only ourselves to blame for not having created the coalitions and compromises that Democrats needed to defeat the white supremacists, corporate pirates, and nativists in 2016.
Let's not make that mistake again—in fact, it looks like we won't. Ginsburg's final gift to us seems to be that in the 48 hours after her passing, ActBlue has raised $100 million for Democrats.
What I'm reading: