Discover more from Political Junkie
News you can use about politics, culture, media, and higher education.
Over 4,000 subscribers
State of Emergency
Advice-giving in a tense and volatile moment is often unwelcome -- but I am going to try anyway
For many people, the urban violence of the 1960s is history, but last night, those memories came rushing back as I watched the news reports about police and protesters battling it out across the nation.
And during those rebellions there wasn't a deadly virus racing around from protester to protester: reports from friends who participated in New York are that mask-wearing is, to put it mildly, irregular. Expect a spike in infections in two weeks.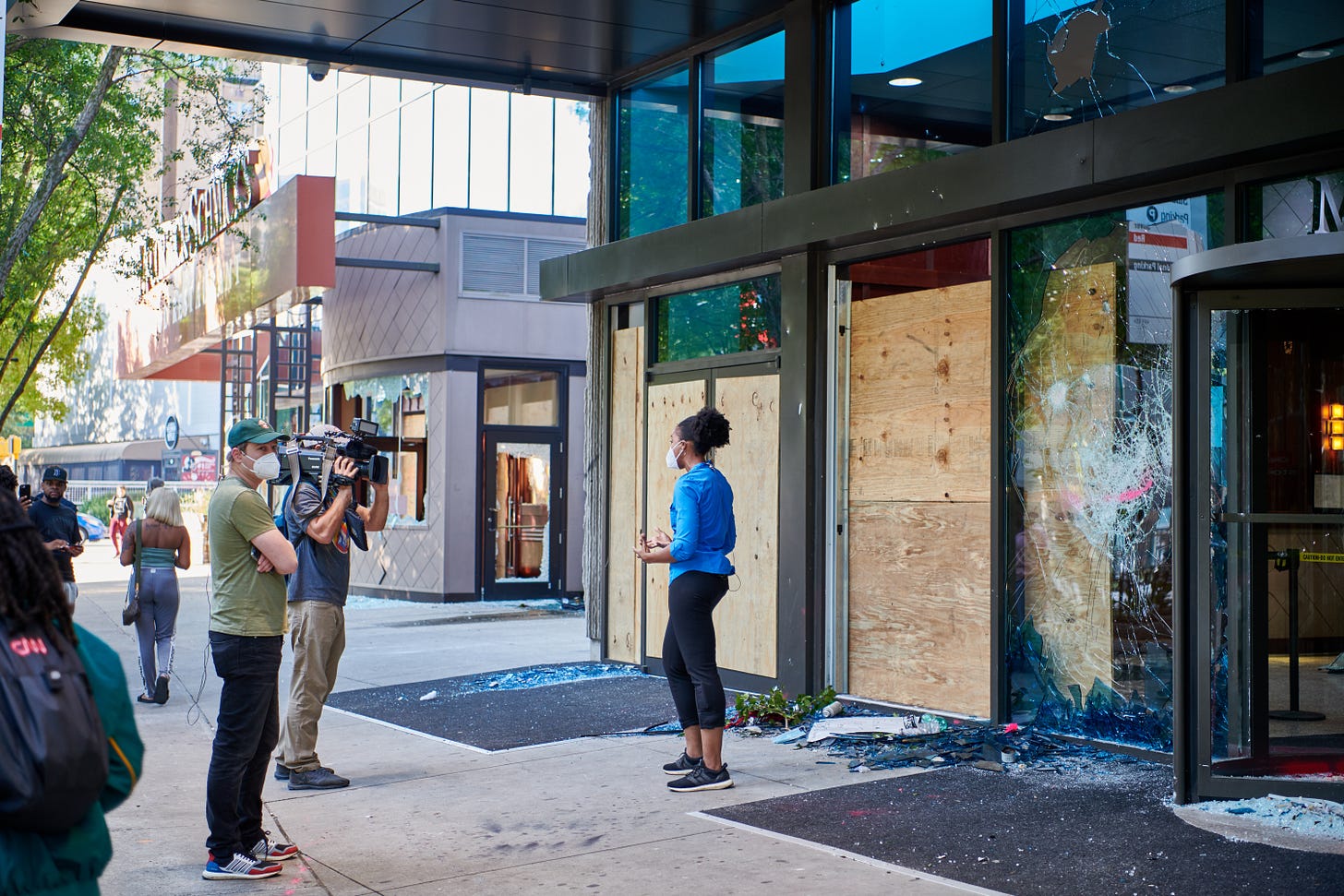 Broken storefront in downtown Atlanta, May 28, 2020. Photo credit: Christopher V. Jones/Shutterstock.com.
People my age lived this as children: the long, hot summers of the early 1960s; the urban rebellions that followed the assassination of Martin Luther King, Jr. in April 1968; and the political conventions in Chicago and Miami a few months later.
Today's rebellions are both similar and different. This week's attacks on business districts, police, and civic buildings are a response to the failures of white politicians to respond to racism, structural violence, and economic inequality. In that, they are similar. Unlike those events, however, we watch them unfold — and participate — through social media.
Here is a timeline from the New York Times about how similar violence has unfolded over the three days since George Floyd's murder at the hands of Minneapolis police officer George Chauvin.
No liberal tut-tutting here: what we know about the incident so far is that the arrest was triggered by a petty and non-violent crime: Floyd allegedly passing a counterfeit $20 to a shopkeeper. Floyd then fell to the ground several times to avoid being taken into police custody, and Chauvin used a technique that is illegal in many cities to enforce his will, as other officers and bystanders watched.
And yet what follows is a swath of destruction that identifies a wide range of enemies: corporate brands, but also the many small businesses often owned by other people of color that dot the underserved neighborhoods most subject to police violence.
Whether you are on the ground, or watching, as I am, I encourage you to use your social media feeds to engage in responsible news gathering and dissemination. Here are a few tips:
Remember that all social media has a negativity bias, and the most effective posts — the ones most likely to be shared repeatedly—are the ones that make you angry.

Be no one's digital fool. Do not retweet, or post to Facebook, without identifying the source and scrutinizing a story, image, or video for accuracy. Ask yourself: Does this look real? What context does it offer — and what context is missing? Fake news is dangerous because it drives highly emotional responses in calculated ways.

When possible, share your rage in ways that represent the situation you are describing accurately. Remain aware that real news stories that you are sharing to inform others should be posted with comments that do not mischaracterize what the original author said.

Professional trolls, those who profit financially from fake news, and political bad-actors thrive in situations like this, deliberately inflaming and targeting constituencies for profit. Do not help them by retweeting or re-posting items just because they aggravate you. That surge of adrenaline in your body should be a sign that a "news" item is a well-crafted piece of fake news designed to sucker you.

Twitter can play a significant role in keeping protesters connected, in mobilizing networks of activists that support protests, and in disseminating vital information about health care and hotspots for violence. But it is also a font of garbage, unsupported gossip, and disinformation. If you are on the ground in these protests, limit yourself to trusted sources. Do not presume that because someone's Twitter profile identifies them as an ally, they are telling the truth.
Reader, if you are involved in these protests, please stay safe. Don't victimize small business owner already drowning in red ink because of the virus lockdown. Wear a mask. Do not attack police officers, and in the face of force, retreat if you can. No one is taking weapons away from the police anytime soon, and projectiles of any kind can maim and kill.
And please: turn your anger into votes. Racism in America precedes Donald Trump by 400 years, but we would not be at a point of explosion, fed by lies, violence, and the ongoing resurgence of white supremacy, were he not President.
Claire Potter is co-executive editor of Public Seminar, Professor of History at The New School for Social Research, and author of Political Junkies: From Talk Radio to Twitter, How Alternative Media Hooked us on Politics and Broke Our Democracy (Basic Books, 2020). You can tweet with her @TenuredRadical.