Discover more from Political Junkie
News you can use about politics, culture, media, and higher education.
Over 4,000 subscribers
The Right Stuff
Why I am excited about Kamala Harris--and hope you are too
The future is here, and it is Kamala Harris.
I will admit: as someone who was a Warren supporter during the primary season and still identified proudly as a Warren Democrat, I was pleasantly surprised at how excited I was to see the subject line of an email from a friend: "It's Harris." After eight years of Obama, I have no illusions that an African American politician is going to save us. However, I have liked Harris from the moment I saw first saw her grilling Jeff Sessions in the spring of 2017, causing him to whimper that she was "talking too fast" and making him "nervous."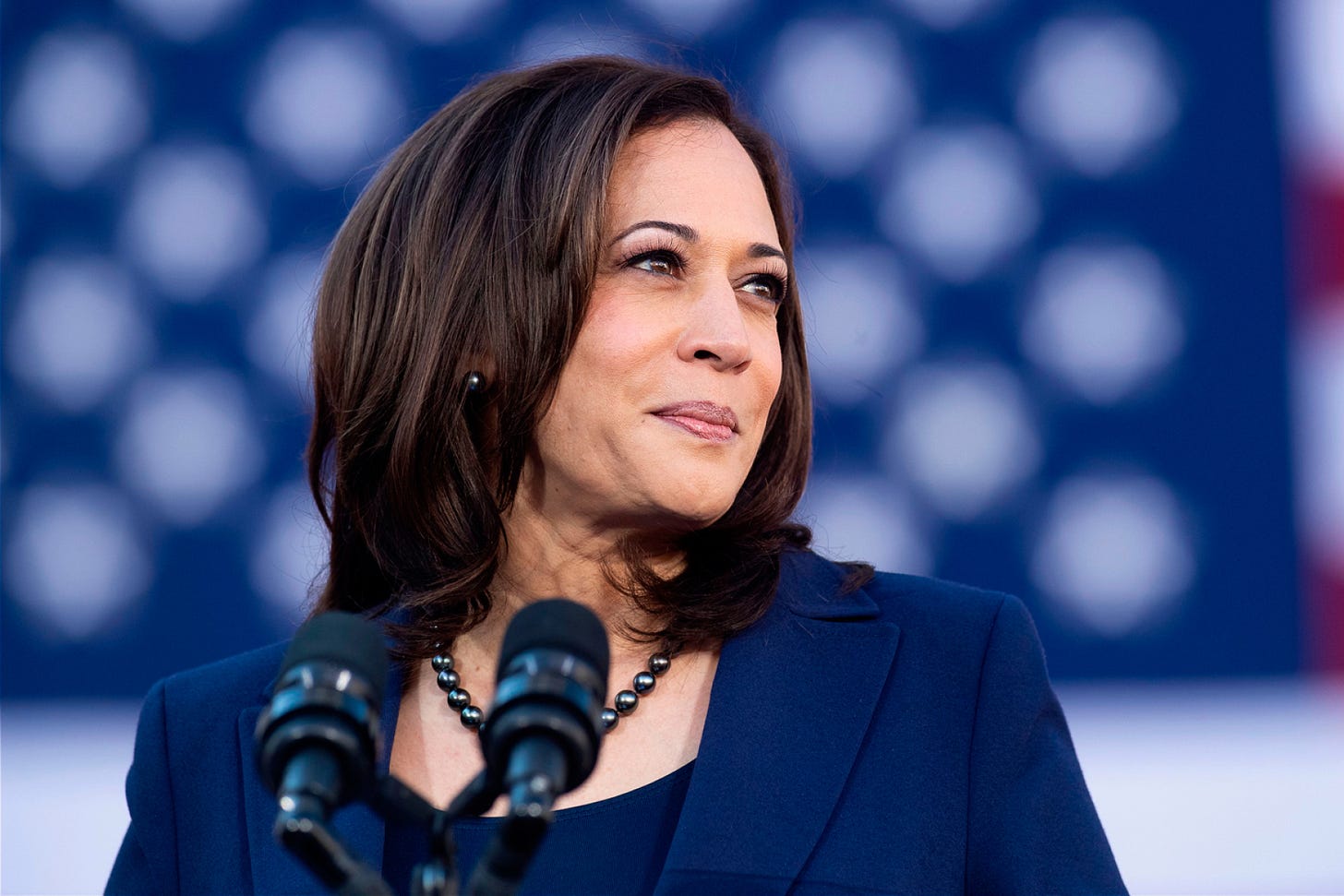 It was a terrific entrance onto the national stage, and although I would agree with those who criticized her presidential run as unfocused and ill-managed, none of that matters now. She is working with a crack team as part of the Biden ticket, and with a seasoned campaigner who probably knows more about running for office than any active politician in the United States today.
What should we expect?
Some version of "I wanted a woman (of color), just not that one" from fellow progressive Democrats. Yes, she was a prosecutor. You know what? So was Bobby Kennedy. Go here for what seems like a relatively even-handed analysis of Harris's record by German Lopez at Vox (August 12, 2020).
Disgusting, racist attacks. What will Kamala do in response to the 8chan crowd generating vile memes and tweets, that will then be mainstreamed by the Trump digital team? Well, there's a playbook. Remember when Rosanne Barr posted that tweet about Susan Rice? If you don't, you can look at it here: but what Susan Rice did was re-tweet it. Because that whole thing about bullies being frightened, angry people is right — and the more you expose what they have done, and the more dignified you are in doing that, the more likely it is that they will have to answer for it.
That Trump will come up with a better nickname than "Phony Kamala" (I believe it is a reference to the stupid idea propagated on right-wing Twitter that Harris isn't "really" African-American because her parents are immigrants.) But it won't matter. It isn't 2016 anymore and, having put up with this terrible man and his equally awful staff for almost four years, Americans are far less shockable than we once were. "Nasty woman?" Yeah, yeah, yeah. What else is new? Except for the fact that QAnon is now a political movement, and Trump is trying to defund the postal service as a voter suppression strategy, everything we have seen from the campaign so far seems like a retread.
The presidential ticket will underwhelm young people on the left. Short of a Sanders-AOC bid, this was inevitable: don't think that Warren (who DSA'rs, at least, seemed to loathe) or any other Democrat would have been a more appealing Veep. What should Democrats do about this? My feeling is: don't argue; support the young, thank them for what they have done so far, and encourage them to back a down-ballot race that does reflect their values. Young people, and DSA in particular, have done a fantastic job of changing the political conversation in the United States, and we owe them more than a condescending lecture about how politics "really works." Instead, engaged youth can head on over to the Justice Democrats webpage and pick a candidate; they can register people to vote in their community as part of their regular organizing activities, and they can volunteer to work at the polls on Election Day. There are even more progressive candidates running for state and local offices. These are all crucial races, and you know what? It's the local grassroots candidates that energize voters: almost nobody splits their ticket anymore.
Black women, particularly boomers, will work their hearts out, and it will put Biden-Harris over the top. Remember, if it had been up to Black women, we would have had Hillary Clinton too. If you think #BlackLivesMatter, one way to show it is to get rid of Donald Trump and giving Joe Biden and Kamala Harris an overwhelming mandate to reverse the racism his administration has promoted. Voter suppression has been part of the GOP playbook since the 1970s, so donate to organizations (like this one, or this one), that are getting people of color registered to vote, helping them obtain whatever identification they need, and organizing absentee and mail-in voting. The women will take care of the rest, I promise you.
And follow this site for the rest of the campaign starting with reports Monday through Thursday for the next two weeks, as the Democratic and Republican conventions play out.
What I'm reading
And a listen: