Discover more from Political Junkie
News you can use about politics, culture, media, and higher education.
Over 4,000 subscribers
The Supreme Court's DACA Ruling & Me
On being superfluous
Yesterday the Trump administration issued a ruling that those in the United States on student visas cannot remain if their universities go all-online. You can read about it here. We expect this rule to be challenged, and we hope the courts will issue a stay. Indeed, some of us imagine that this is one of those Trumpy policy initiatives that is intended to troll the libs and satisfy the base with no expectation that it will actually take effect.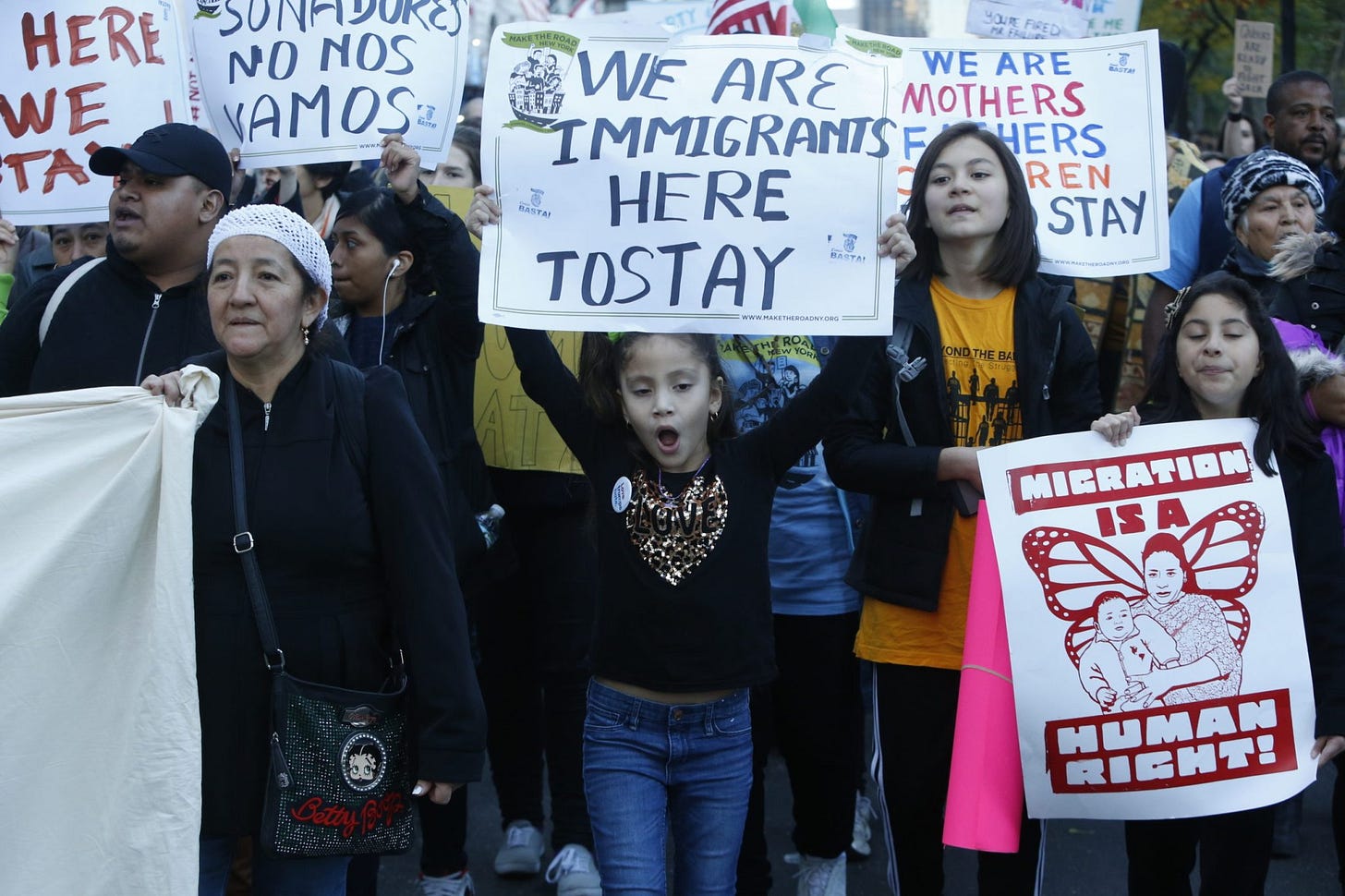 New York City, 2016: Protestors march against President Donald Trump's proposed immigration policies. Photo credit: a katz / Shutterstock.com
.
Many foreign students—their nerves already raw from earlier threats and Covid-19—are, understandably, distressed. Public Seminar wanted to recirculate the lead story in this week's issue: written by undocumented writer and intellectual José Ángel Navejas, it describes the pain of life in the shadows.
When I crossed the border from Mexico in 1993, there were no doubts about what I would do once I arrived in Chicago: find a job in a factory, or wash dishes, or get down on my knees to scrub dirty toilets, whichever came first. In Mexico, I had grown up in a house surrounded by adults who would leave for long stretches of time and come back home every year for a few weeks only. I eventually understood that they all went to work in another country, the United States. This coming and going seemed like the natural order of things, which I took as a sign that one day I would make the same journey myself.
I was almost 20 years old when I left Guadalajara, my native city. I slipped into the United States for the same reasons others in my family had: I was desperate for work and I knew America had an insatiable need for cheap labor.
Recently, the big news on the immigration front has been that the Supreme Court blocked the Trump administration from ending DACA, the program that protects young people brought to the country without proper documentation from being deported. DACA is said to temporarily protect about 600,000 young people.
While the court's decision was cause for celebration, the ruling does nothing to address the condition of the majority of undocumented people currently living in the United States — including people like my uncles and me, in the pre-DACA generation; and also those in the post-DACA generation, like the Central American children Donald Trump put in cages.
In practical terms, this means that the lives of over 10 million people currently remain in limbo.
Consider my case: Once upon a time, I came to a shiny city on a flatland, confident in the redemptive power of industrious manual labor. Following in the footsteps of my uncles, I set out to better myself as best I could….
For the rest of this story, click here.
---
Claire Potter is co-executive editor of Public Seminar, Professor of History at The New School for Social Research, and author of Political Junkies: From Talk Radio to Twitter, How Alternative Media Hooked us on Politics and Broke Our Democracy (Basic Books, 2020). You can tweet with her @TenuredRadical.