Discover more from Political Junkie
News you can use about politics, culture, media, and higher education.
Over 4,000 subscribers
The Tara Reade Quandary
We know how to listen to women who allege sexual assault. But that isn't where it stops -- we need to talk about it
Tara Reade's allegation that, as a Senate staffer, she was sexually assaulted by presumptive Democratic nominee Joe Biden in 1993 could not have come at a worse time. I say this is not because sexual assault allegations are inconvenient and contentious, and more so when made against a politician who is supposed to be helping to retake the White House from the current occupant. That is, of course, true — but if you are going to listen to women, it's an absolute commitment, whether it's a good time for it or not.
But the timing is terrible, in part because we have all withdrawn from public space, and we have to have a vital conversation in the place least likely to host it well, and where most of us speak mostly from experience: the internet.
Of course, it's rare that any of us has the opportunity to engage public debate as part of an actual public, rather than a circle of like-minded friends. I am fortunate in that regard. On July 7, 1987, I was in the jury pool of a Manhattan courtroom when Oliver North testified about Iran-Contra. The court officer who was minding us had a television brought into the room: I not only saw the testimony but also had the opportunity to discuss it with a room full of randomly chosen New Yorkers.
On October 11, 1991, I had just come off the court at the Upper East Side squash club where I trained, when Anita Hill was sworn in to testify against Clarence Thomas. I stayed to watch as people came in to work out and then abandoned their plans for this riveting testimony. And on September 27, 2018, I was headed to Washington D.C. on an Amtrak when I learned that my friend, conservative journalist Ryan Girdusky, was also on the train. We found each other and, together with the rest of the train, listened to Christine Blasey Ford's testimony against Supreme Court nominee Brett Kavanaugh together, debating the issues during the breaks.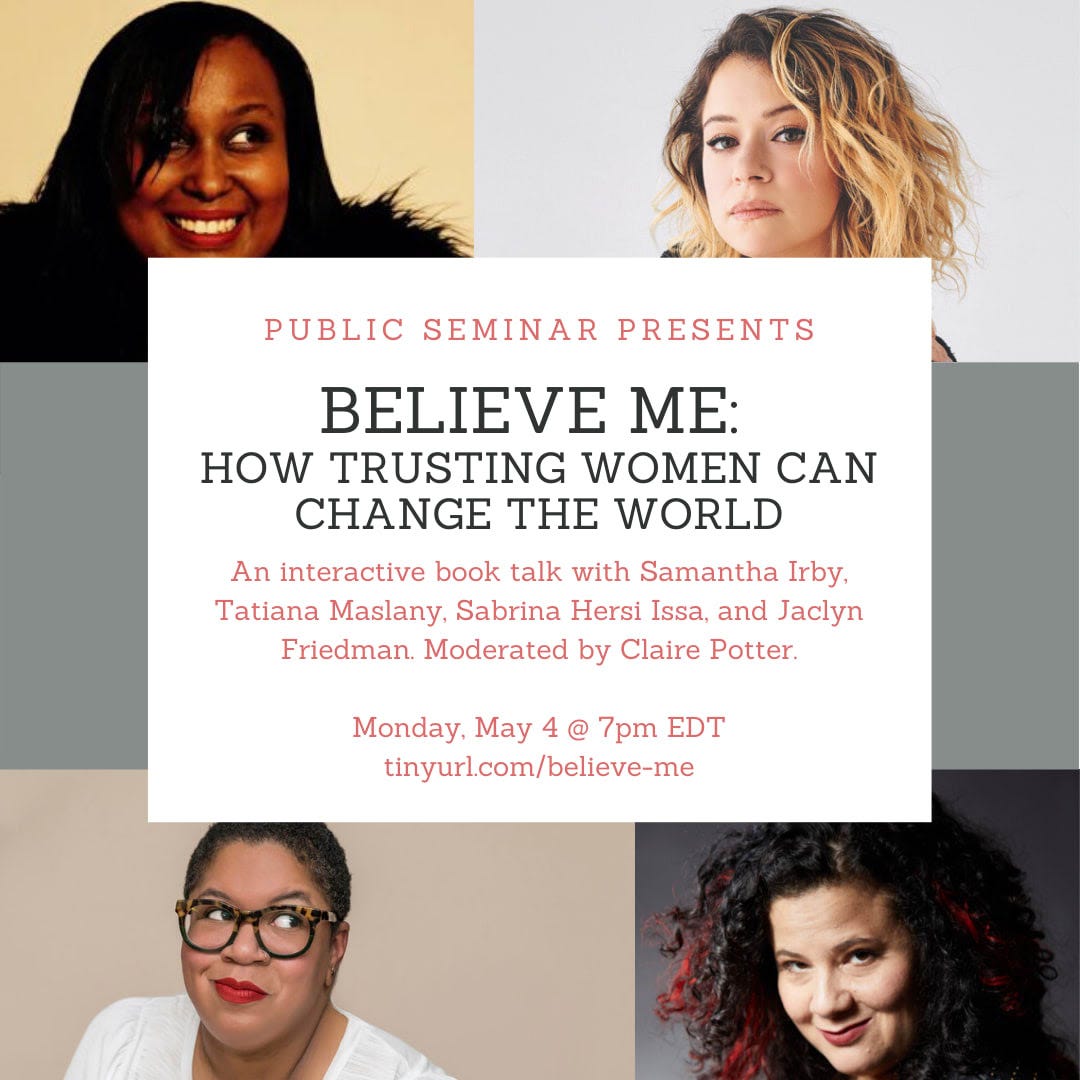 But Public Seminar is here to help you. On Monday, at 7:00 pm, I will be hosting a panel of feminists who have been thinking and talking about these issues for decades. Join us for an hour of conversation and readings from a new collection of feminist essays that have never been more relevant. Believe Me: How Trusting Women Can Change the World (Seal Press, 2020) asks us to imagine a world in which we not only believe women, but act as though the things they report – harassment, sexual assault, and calls for justice – are urgently important.
Moderator, Claire Potter, co-Executive Editor, Public Seminar

Jaclyn Friedman, author, activist, and editor of Believe Me

Samantha Irby, New York Times best-selling author

Tatiana Maslany, Emmy-winning actor

Sabrina Hersi Issa, CEO of Be Bold Media, and founder of Survivor Fund 
This webinar is sponsored by Public Seminar, a journal of politics and culture based at The New School for Social Research. You can register here.
What We're Reading
Political consultant David Axelrod chimes in to say that Tara Reade's name never surfaced when the Obama team vetted Joe Biden for the national ticket in 2008. (CNN, May 1, 2020)

Senior Managing Editor Helaine Olen points out that we should wish Georgia well in its reopening strategy. We will all be there soon. (Washington Post, April 29, 2020)

Yet another theory about why Bernie Sanders lost his quest for the Democratic nomination: Hamilton Nolan argues that "Bernie Lost Because America Doesn't Have a Strong Labor Movement." (In These Times, April 28, 2020)

At The Bulwark, A.B. Stoddard shows how Donald Trump's diversions and deflections not only undermined the novel coronavirus response among the general public but also prevented the Veteran's Administration and active military from preparing for the impact of COVID-19. (April 22, 2020)

When the Fox News branch of the family is in lockdown with MSNBC relatives, are long-avoided conflicts inevitable? (Sarah Lyall, New York Times, April 17, 2020)