Discover more from Political Junkie
News you can use about politics, culture, media, and higher education.
Over 4,000 subscribers
What We Learned in South Carolina
Buying elections is harder than it looks, Joey isn't done yet, and farewell to Pete Buttigieg
Despite all the huzzahs from Democratic party moderates about Joe Biden's resounding victory in South Carolina on Saturday, it is essential to remember one thing. Joe Biden has succeeded only — at this point — in not being Pete Buttigieg and Tom Steyer, both of whom ended their campaigns after disappointing finishes in the Palmetto State.
The real test for Biden was never South Carolina. It is tomorrow, Super Tuesday.
Bernie Sanders is running strong in critical states like California and Texas. Voters will see Michael Bloomberg on the ballot for the first time, and pollsters expect Elizabeth Warren to play a more significant role than she has so far. What then? Steven Shepard of Politico evaluates the volatile situation here as voters in fifteen states go to the polls. (March 1, 2020)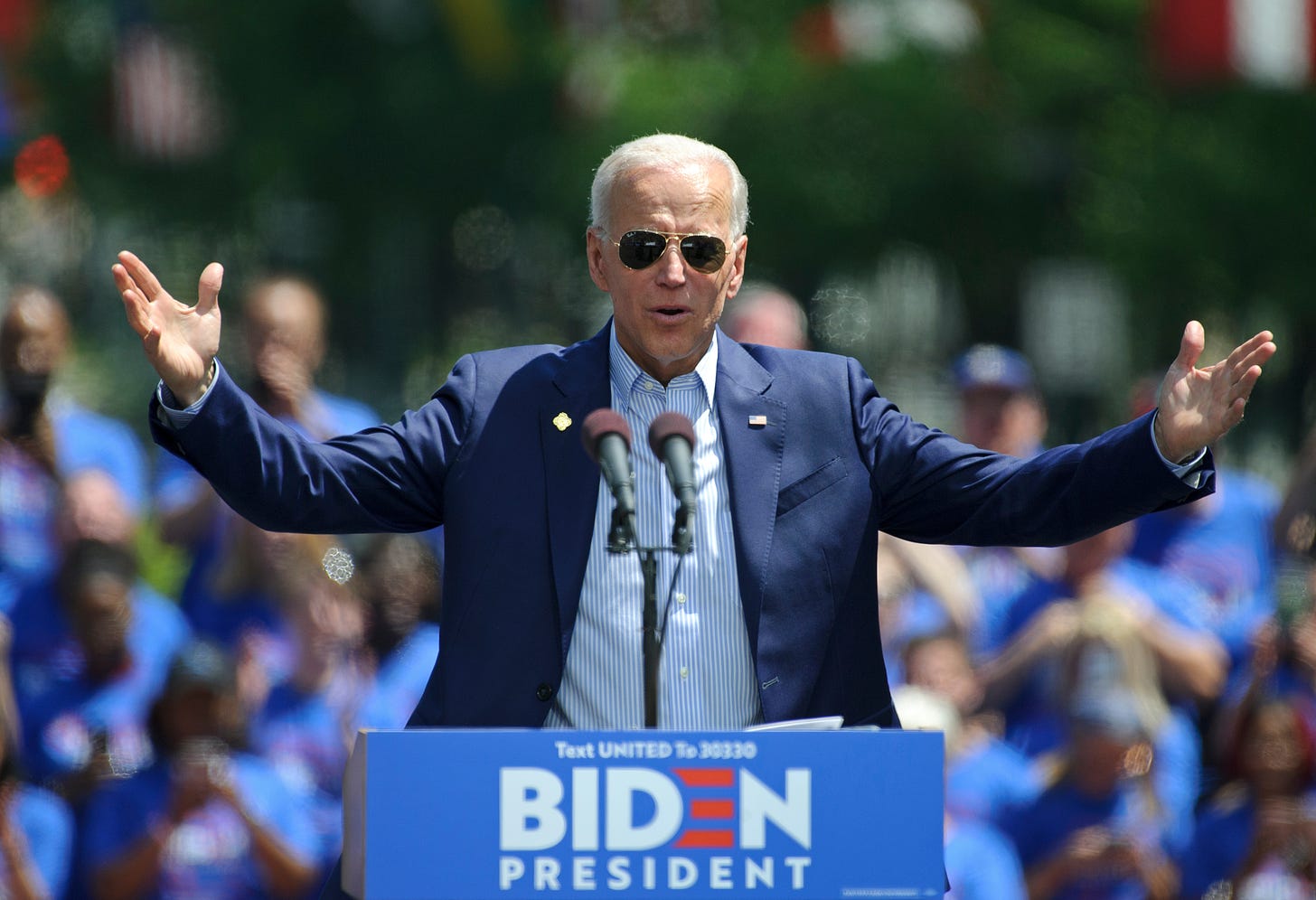 As we await this monster primary, let's review four takeaways from the South Carolina primary results.
You can't buy an election in the United States — yet. Tom Steyer has dropped out of the race after finishing third with 11.3% on Saturday, his best result to date. Steyer left it all on the floor in his effort to break through relentless voter indifference by spending over $24 million in the state, about a tenth of what he spent in his campaign overall. By my calculations, that came to about $1200 a vote in South Carolina. Troubling allegations have also emerged: that Steyer put the relatives of state party members on his campaign payroll. If this is true, it should cause the Democratic party — or the Federal Election Commission — to scrutinize rules on self-financing a presidential bid. Prediction: in the short term, this will go nowhere. In part, this is because of Citizens United. As importantly, any new rules would have to include spending limits that charismatic populists like Bernie Sanders and Donald Trump would oppose.
But you do need money to win elections, and the Democratic establishment donors Pete Buttigieg needed went to Joe Biden. But was this a surprise to the Boy Mayor? I have been skeptical all along that Pete believed he could win the nomination. Instead, I would posit that this campaign was about making him a national figure, similar to Beto O'Rourke or Stacy Abrams, who can now raise the kind of money to which mayors of Midwestern, post-industrial cities generally don't have access. Prediction: Buttigieg will be back. Expect him to go after Indiana Senator Todd Young's Senate Seat — or make a stab at dumping Governor Eric Holcomb — in 2022.
The Democratic party base does not currently believe that a woman can win the presidency. Whether this is an outcome of Hillary Clinton's traumatic loss in 2016, sheer sexism, or whatever — that accomplished senators like Elizabeth Warren and Amy Klobuchar are doing so poorly in such a mediocre field would, in another universe, or Europe, be shocking. The Democratic leadership, I am sure, feels terrible about this — or at least, they recognize that it is a public relations problem. Prediction: the Democratic Veep pick will be a woman. Maybe even Warren or Klobuchar. If it looks like a consolation prize, that's because it is a consolation prize. But we'll take it.
South Carolina's African-American voters did the job many moderate Democrats hoped they would do. By giving Biden a decisive victory (as they did Hillary Clinton in 2016), they served as a brake on a chaotic primary process dominated, so far, by socialist Bernie Sanders. Do not, however, make the mistake that the Clinton people made in 2016: that some entity called "the black vote" has mustered collectively behind the establishment and that Biden is, therefore, a strong candidate. Yes, Biden won 3 out of 5 African American voters, Sanders a miserable 1 in 6, and Steyer (who had gone all-in on this demographic) 1 in 7. But I will repeat what I have said before: even though the African American vote is the ballast of the Democratic party, South Carolina is not a test of African American political sentiment nationwide. Prediction: increased calls to "put a Black woman" on the ticket (see above) will intensify in the next two weeks. And expect Biden to make a pre-emptive announcement about a female Veep pick if he does not come out of Super Tuesday with a delegate lead.
Speaking of vice presidents, I end this newsletter by disclosing the one irrational fear I have about the process going forward. My nightmare scenario is that Bernie Sanders will choose the inept, bigoted, and sometimes risible Tulsi Gabbard as his VP. Why? To thrill a dirtbag left that can't bear women with actual accomplishments, appeal to the Hillary haters and peel even more libertarians away from Trump. Gabbard could, in short, be the Democrats' version of Sarah Palin.
Tell me that I am wrong. Please.