Discover more from Political Junkie
News you can use about politics, culture, media, and higher education.
Over 4,000 subscribers
The Pwesident Is Vewy, Vewy Angwy
So why was this blatant and unrepentant sinner allowed to use the nonpartisan National Prayer Breakfast to vent his rage?
It's been a big week: the Iowa Caucuses self-immolated, the impeachment ended in acquittal, the annual State of the Union became a TV game show, and Donald J. Trump is threatening everyone.
The National Prayer Breakfast is, to the extent that this is possible, a nonpartisan event. This year, Arthur C. Brooks, the author of Love Your Enemies: How Decent People Can Save America from the Culture of Contempt (2019) and the president of the conservative American Enterprise Institute, urged attendees of yesterdays National Prayer Breakfast to overcome the partisan divide. And then President Bull came roaring into the china shop to remind us what an utterly bogus idea that is. Nicole Lafond of Talking Points Memo described the unforgiving and enraged rant delivered by the recently acquitted and forever impeached Donald J. Trump to thousands of faithful assembled at the Washington Hilton as "dark and blatantly bonkers." (February 7, 2020)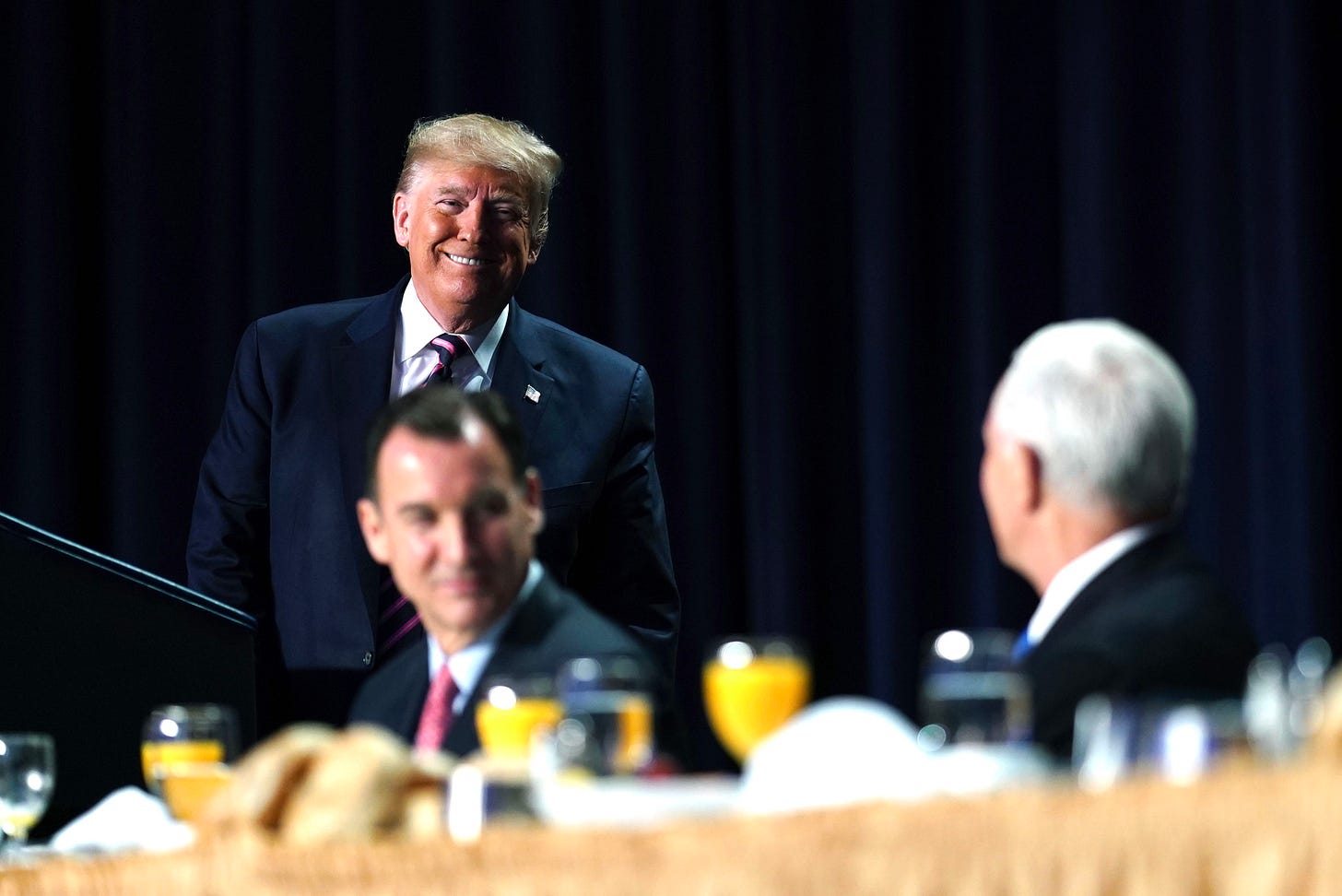 We are all running out of words to describe these bizarre events. One can only imagine what the attendees of a non-partisan event that was founded in 1953 thought as Donald Trump brought the #MAGA to the 3,000 + person audience. Trump used the platform to celebrate his Senate acquittal and attack his enemies, trashing Speaker of the House Nancy Pelosi (who was sitting a few feet away, and also spoke at the event) as a person who lies about her prayer habits. Also in the line of fire was Mitt Romney, and the other "dishonest and corrupt people" who were part of the attempt to remove him from office. These people, who Trump has reportedly characterized as his "enemies" are, he says, fake believers and "evil people".
"I don't like people who use their faith as justification for doing what they know is wrong," the president said. "Nor do I like people who say, 'I pray for you,' when they know that that's not so. So many people have been hurt, and we can't let that go on."
You can read a full account by Michelle Boorstein and Sarah Pulliam Bailey in the Washington Post. And think about this: the assertion, applauded by other Republicans present, was that if you are not a supporter of Donald Trump, you have no authentic relationship with God.
We at Public Seminar cannot figure out whether we are shocked or not: does anything shock us anymore? Do we even care about The National Prayer Breakfast? Not really. But what we know is that, absent any desire of his own party to check the president, and his own deteriorating self-discipline, events claiming to be non-partisan should stop platforming Trump because he does not have a nonpartisan bone in his body. The elimination of non-partisan spaces, and the proliferation of intolerant partisan spaces, is part of what makes political life intolerable, vicious and dysfunctional.
A final note: "so many people have been hurt, and we can't allow this to go on" is also an excellent rationale for putting every bit of effort into unifying the Democratic party around a single candidate in the coming months.
Weekend reads and listens: